Today we look at Production Music Beds - and while we have previously touched on WHY we use music in commercials (SEE - HERE -), but we haven't looked closely at what exactly a Production Music Bed is.
Before we begin though - here are two graphics below that were put together by a friend at another radio station.
He uses them to ask a client to give him an idea about what type of music genre they like, and what mood they want...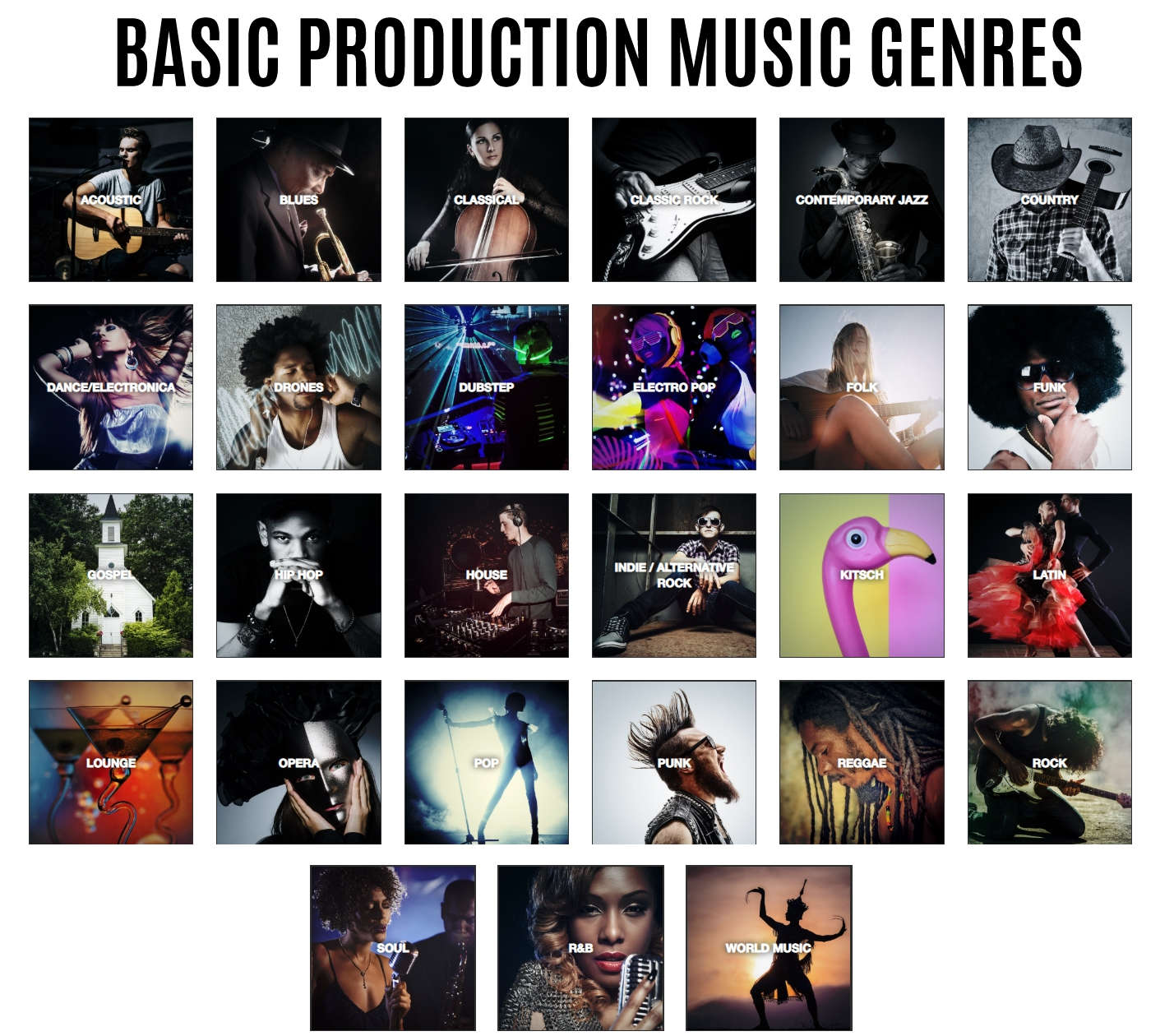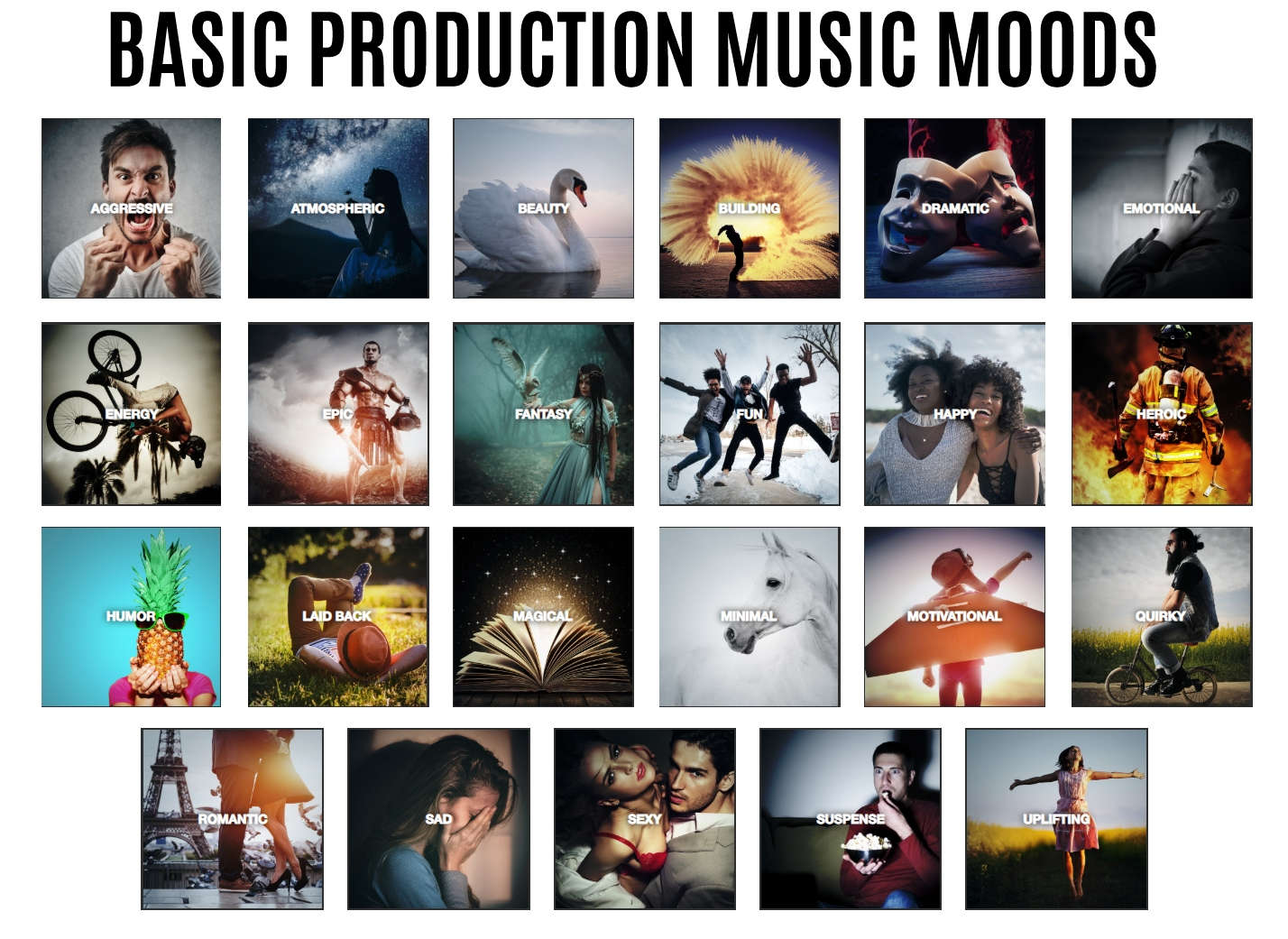 While it is a good starting point, I prefer to approach a commercial script and the music we choose to use a different way.
If you are doing a hard sell read with lots of 'buy now' products mentioned - you don't want an emotional classical piece of music under it - you want something more lively and energetic... same as if you were trying to do a serious commercial, would you have aggressive rock music playing?
Maybe you would do the opposite if you want to really disrupt listeners - but your message might be seriously compromised.
It all comes down to trying to find a piece of music that not only compliments the words spoken by your voice talent, but also helps to build the picture in the mind of the listener - to help sell the message you are broadcasting.
To do this we have access to HUNDREDS of THOUSANDS of music beds from Production Music Libraries. Covering all of the above genres and moods, to way, WAY more! And sometimes we can look and look for something that will just fit perfectly. Other times we can come across it almost by chance, or, by divine inspiration - it can at times be a spooky process!
Our station commercial producer (Carl - 'Hi Carl!') knows his production music library really well and is able to pick a bed that suits the read perfectly - and sometimes he even surprises me with something left of centre that fits so perfectly I want to kick myself for not thinking of that when I was writing the script.
Music is a REALLY vital part of commercial production, and is never overlooked when we are writing scripts for you.
Sometimes you will see on a script a note from the copywriter about the style of music they want, such as: "Similar to..." or "sound-a-like" or the mysterious "AC" or "CHR" letters which stand for Adult Contemporary (previous top 40 style - as in AC80's) and Contemporary Hit Radio (ie: current top 40 style music). Or it may even be a mixture of different things like: "upbeat acoustic rock".
All of these production music notes though only serve to indicate to our producer what type of feel of music we are after - they will then zero in on the music type once he gets the voice back and sits down to produce the commercial. The producers voodoo that they do so well is that they can pick a voice read and match it to a style of music perfectly.
Listen to the next commercial you hear on the radio and see what music bed is there and what it is trying to tell you... it is enlightening!
But if you have something specific in mind when we are writing your script - let me know - I have written spots to match 1950's dance music, 80s pop, heavy metal, Australian bush ballad... whatever it is - if you let us know we can try to write to it to hopefully hit your target of what you are trying to achieve with your commercial.
So keep the Production Music Bed you want in mind, when we are producing your next commercial.
Until next time - stay safe!