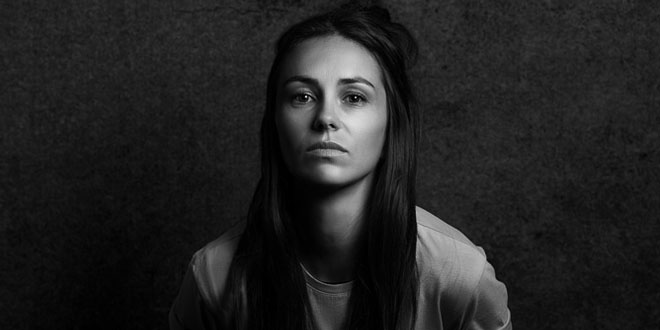 Her music has already scored some early wins, but the Gold Coast singer has nine nominations all up. Check out the full list
The 2018 ARIA Award nominees have been announced this morning with Amy Shark leading the way with a total of 9 nominations followed by Courtney Barnett who is up for 8 awards this year.
WA School Teacher Deborah Skelton of Caladenia Primary School in Canning Vale has also been recognised for her work with a nomination for Best Music Teacher. Perth's Troy Sivan scored 4 nominations from his release Bloom.
The awards ceremony will be held at The Star in Sydney November 28.
Congratulations to the 2018 #ARIAs @AppleMusic Song Of The Year nominees: @5SOS, @AmySharkMusic, @angusjuliastone, @ConradOfficial, @deanlewismusic, @pekingduk, @pnau, @wearesheppard, @troyesivan, @vancejoy pic.twitter.com/IsE05YH2Mj

— ARIA (@ARIA_Official) October 10, 2018
2018 ARIA Award Nominees
Apple Music Album Of The Year
Amy Shark – Love Monster (Wonderlick Recording Company)
Courtney Barnett – Tell Me How You Really Feel (Milk! Records/Remote Control Records)
Gurrumul – Djarimirri (Child of the Rainbow) (SFM/MGM)
Pnau – Changa (etcetc Music)
Troye Sivan – Bloom (EMI)
Best Male Artist
Dan Sultan – Killer Under A Blood Moon (Liberation Records)
Dean Lewis – Be Alright (Island Records Australia/Universal Music Australia)
Gurrumul – Djarimirri (Child of the Rainbow) (SFM/MGM)
Troye Sivan – Bloom (EMI)
Vance Joy – Nation Of Two (Liberation Records)
Best Female Artist
Alison Wonderland – Awake (EMI)
Amy Shark – Love Monster (Wonderlick Recording Company)
Courtney Barnett – Tell Me How You Really Feel (Milk! Records/Remote Control Records)
Sia – Flames (What A Music Ltd, Under Exclusive Licence to Warner Music Group)
Tash Sultana – Flow State (Lonely Lands Records/Sony Music)
Best Dance Release
Alison Wonderland – Awake (EMI)
Fisher – Losing It (etcetc Music)
Peking Duk – Fire (Sony Music)
Pnau – Go Bang (etcetc Music)
RÜFÜS DU SOL – No Place (Sony Music)
Best Group
5 Seconds Of Summer – Youngblood (Capitol UK/EMI)
DMA'S – For Now (I OH YOU)
Peking Duk – Fire (Sony Music)
Pnau – Go Bang (etcetc Music)
RÜFÜS DU SOL – No Place (Sony Music)
Breakthrough Artist
Alex Lahey – I Love You Like A Brother (Nicky Boy Records/Caroline Australia)
Jack River – Sugar Mountain (I OH YOU)
Mojo Juju – Native Tongue (ABC Music/Universal Music Australia)
Odette – To A Stranger (EMI)
Ruel – Dazed & Confused (RCA Records/Sony Music)
Best Pop Release
5 Seconds Of Summer – Youngblood (Capitol UK/EMI)
Amy Shark – Love Monster (Wonderlick Recording Company)
Dean Lewis – Be Alright (Island Records Australia/Universal Music Australia)
Jack River – Sugar Mountain (I OH YOU)
Troye Sivan – Bloom (EMI)
Best Urban Album
360 – Vintage Modern (Forthwrite/EMI)
Esoterik – My Astral Plane (Flight Deck/Mushroom Group)
Hilltop Hoods – Clark Griswold (feat. Adrian Eagle) (Hilltop Hoods/Universal Music Australia)
Kerser – Engraved In The Game (ABK Records. Marketed & distributed by ADA, a division of Warner Music Australia Pty Ltd)
Mojo Juju – Native Tongue (ABC Music/Universal Music Australia)
Best Independent Release
Angus & Julia Stone – Snow (Angus & Julia Stone Pty Ltd/EMI)
Courtney Barnett – Tell Me How You Really Feel (Milk! Records/Remote Control Records)
DMA'S – For Now (I OH YOU)
Gurrumul – Djarimirri (Child of the Rainbow) (SFM/MGM)
Pnau – Go Bang (etcetc Music)
Best Rock Album
Camp Cope – How To Socialise & Make Friends (Poison City Records)
Courtney Barnett – Tell Me How You Really Feel (Milk! Records/Remote Control Records)
DMA'S – For Now (I OH YOU)
Luca Brasi – Stay (Cooking Vinyl Australia)
Middle Kids – Lost Friends (EMI)
Best Adult Contemporary Album
Courtney Barnett & Kurt Vile – Lotta Sea Lice (Milk! Records/Remote Control Records)
Dan Sultan – Killer Under A Blood Moon (Liberation Records)
Missy Higgins – Solastalgia (Eleven: A Music Company/EMI Music)
Odette – To A Stranger (EMI)
Vance Joy – Nation Of Two (Liberation Records)
Best Country Album
Adam Eckersley & Brooke McClymont – Adam & Brooke (Lost Highway Australia /Universal Music Australia)
Fanny Lumsden – Real Class Act (Red Dirt Road/AWAL)
Kasey Chambers & The Fireside Disciples – Campfire (Essence Group Entertainment. Marketed and distributed by Warner Music Australia Pty Ltd)
The Wolfe Brothers – Country Heart (ABC Music/Universal Music Australia)
Travis Collins – Brave & The Broken (ABC Music/Universal Music Australia)
Best Hard Rock/Heavy Metal Album
DZ Deathrays – Bloody Lovely (I OH YOU)
King Parrot – Ugly Produce (EVP Recordings/Rocket)
Parkway Drive – Reverence (Resist Records/Cooking Vinyl Australia)
Polaris – The Mortal Coil (Resist Records/Cooking Vinyl Australia)
West Thebarton – Different Beings Being Different (Domestic La La/Sony Music Entertainment)
Best Blues & Roots Album
Angus & Julia Stone – Snow (Angus & Julia Stone Pty Ltd/EMI)
Emily Wurramara – Milyakburra (Wantok Musik/MGM)
Mama Kin Spender – Golden Magnetic (ABC Music/Universal Music Australia)
Ruby Boots – Don't Talk About It (Island Records Australia/Universal Music Australia)
Tash Sultana – Flow State (Lonely Lands Records/Sony Music)
Best Original Soundtrack or Musical Theatre Cast Album
Evelyn Ida Morris – Acute Misfortune (Original Soundtrack) (ABC Music/Universal Music Australia)
Jessica Mauboy – The Secret Daughter Season Two (Songs for the Original 7 Series) (Sony Music)
Jimmy Barnes – Working Class Boy: The Soundtracks (BLOODLINES)
LIARS – 1/1 (Original Soundtrack) (Mute/Inertia)
Various Artists – Muriel's Wedding: The Musical (The Original Cast Recording) (Global Creatures/Sony Music)
Best Children's Album
Justine Clarke – The Justine Clarke Show! (ABC KIDS/Universal Music Australia)
Lah-Lah – 10th Birthday Party (Stella Projects/Sony Music)
Sam Moran – Santa's Coming! (Sony Music)
Teeny Tiny Stevies – Helpful Songs For Little People (ABC KIDS/Universal Music Australia)
The Wiggles – Wiggle Pop! (ABC KIDS/Universal Music Australia)
Apple Music Song Of The Year
5 Seconds Of Summer – Youngblood (Capitol UK/EMI)
Amy Shark – I Said Hi (Wonderlick Recording Company)
Angus & Julia Stone – Chateau (Angus & Julia Stone Pty Ltd/EMI)
Conrad Sewell – Healing Hands (Sony Music)
Dean Lewis – Be Alright (Island Records Australia/Universal Music Australia)
Peking Duk – Fire/Reprisal (Sony Music)
Pnau – Go Bang (etcetc Music)
Sheppard – Coming Home (Chugg Music/MGM)
Troye Sivan – My My My! (EMI)
Vance Joy – Lay It On Me (Liberation Records)
Best Video
Amy Shark – I Said Hi (Wonderlick Recording Company)
Client Liaison – Survival In The City (Warner Music Australia Pty Ltd)
Courtney Barnett – Need A Little Time (Milk! Records/Remote Control Records)
Dean Lewis – Be Alright (Island Records Australia/Universal Music Australia)
Gang Of Youths – The Heart Is A Muscle (Mosy Recordings/Sony Music)
Mojo Juju – Native Tongue (ABC Music/Universal Music Australia)
Peking Duk – Fire (Sony Music)
Pnau – Go Bang (etcetc Music)
Tash Sultana – Salvation (Lonely Lands Records/Sony Music)
The Presets – Do What You Want (Modular/EMI)
Best Australian Live Act
5 Seconds Of Summer – Meet You There Tour (Capitol UK/EMI)
Amy Shark – Love Monster Tour (Wonderlick Recording Company)
Client Liaison – Expo Liaison (Warner Music Australia Pty Ltd)
Courtney Barnett – Tell Me How You Really Feel National Tour (Milk! Records/Remote Control Records)
Dean Lewis – 2017 National Tour (Island Records Australia/Universal Music Australia)
Gang Of Youths – 2017 National Tour (Mosy Recordings/Sony Music)
Paul Kelly – Life Is Fine Tour 2017 (EMI)
Peking Duk – The Wasted Tour (Sony Music)
Pnau – Pnau Changa Australian Tour (etcetc Music)
Tash Sultana – Homecoming Tour (Lonely Lands Records/Sony Music)
Best International Artist
Camila Cabello – Camila (Syco/Epic/Sony Music)
Drake – Scorpion & More Life (Republic/Universal Music)
Ed Sheeran – ÷ (Warner Music)
Eminem – Revival & Kamikaze (Interscope/Universal Music)
Imagine Dragons – Evolve (Interscope/Universal Music)
Khalid – American Teen (RCA/Sony Music)
P!nk – Beautiful Trauma (RCA/Sony Music)
Post Malone – Beerbongs & Bentleys & Stoney (Universal Music)
Sam Smith – The Thrill Of It All (Capitol/EMI)
Taylor Swift – Reputation (Big Machine/Universal Music)
Music Teacher of the Year
Becky Hall (Education Institute, Royal Children's Hospital Melbourne)
Scott Maxwell (Grant High School, Mount Gambier)
Dean Harawira (Nerang State High School, Gold Coast)
Deborah Skelton (Caladenia Primary School, Canning Vale)