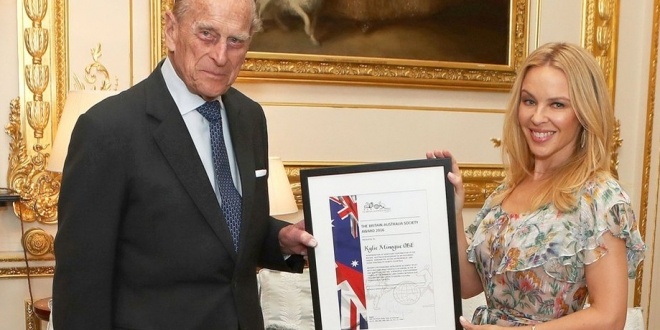 Source: Twitter/TheRoyalFamily
Kylie Minogue has been to London to visit the... Prince!!
The Princess of Pop, Kylie Minogue, is pretty much seen as British Royalty especially with her latest invitation to receive the British-Australian Society Award from Prince Philip himself!!
Miss Minogue went to the White Drawing Room at Windsor Castle, near London on Monday 4th April, to be honoured with the prestigious award from the Duke of Edinburgh whom she described as 'charm personified.'
The award recognises people who have made a big contribution to the relationship between the two countries.
Kylie was extremely pleased with her award.
Watch @KylieMinogue reflect on receiving the Britain-Australia Society Award for 2016 from The Duke of Edinburgh, at Windsor Castle. pic.twitter.com/srSet6CpbE

— The Royal Family (@RoyalFamily) April 4, 2017