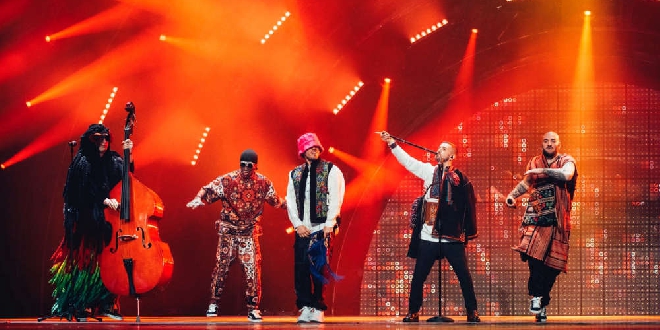 With a record-setting 438 points from the public.
If you watched Eurovision over the weekend, then you will already know who won, and how Australia fared in the Final.
UKRAINE was crowned the winner for 2022.
The Kalush Orchestra's song Stefania, a track fusing rap with traditional folk music - which held a deeper, political meaning, and even had an epic flute solo - was unbeatable, scoring 192 votes from the jury, with an incredible 439 points from the public (with over 40 countries voting).
That's a record-setting total of 631!

The UK came in second place at 466 points, with Sam Ryder's impressive song Spaceman...

And Spain came in 3rd place with 459 points with Chanel's steamy performance of SloMo.
Australia's Sheldon Riley nailed his vocals and gave one of the most heartfelt and dramatic performances of the evening. He scored a great jurors score of 124, but sadly only received 2 votes from the public, which then placed him in 15th place with a total score of 126.
Absolutely electric night for our Aussie representative, who will no doubt remember this incredible moment for the rest of his life.
We are all so proud!
We have to give a special shout-out to one of the most eclectic performances of the night - Norway's Subwoolfer with Give That Wolf a Banana.

Fan fave - which saw them place 10th.
What was your favourite performance of the night?!

Check out the full list of winners.
Source: YouTube/Eurovision/Instagram/SheldonRiley/