97 Days of Summer - Crack the Safe and WIN $15,000!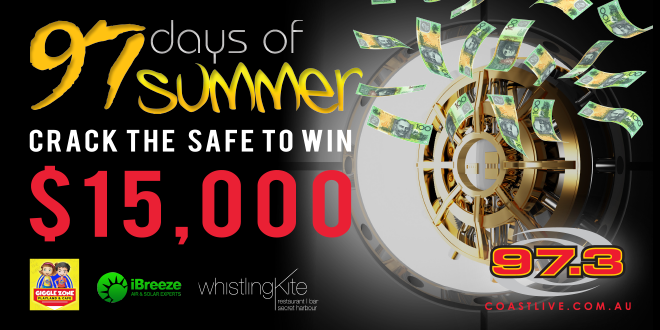 Here's your shot at winning $15,000 with the 97 Days of Summer on the Coast!
There are a few ways to get your name on the standby list – either win something from us over the 97 Days of Summer, head into one of our sponsors stores and sign up there or listen out for the Second Chance Swoop when we start calling names out!
Once we have 97 people on the standby list, we will draw out 3 people to claim a key and come to the Coast FM studio to try and 'Crack the Safe' for $15,000!
The 97 Days of Summer thanks to The Whistling Kite, iBreeze – the air and solar experts, Giggle Zone Indoor Play Centre & Cafe, and 97.3 Coast FM!
ENTRIES: Wednesday 1st Dec 2021 to Friday March 4th, 2022.
97 ENTRANTS: Monday Jan 10th to Friday Mar 4th, 2022.
FINAL THREE DRAWN: Tuesday Mar 8th to Thursday Mar 10th, 2022.
MAIN CASH DRAW: Friday March 11th, 2022.