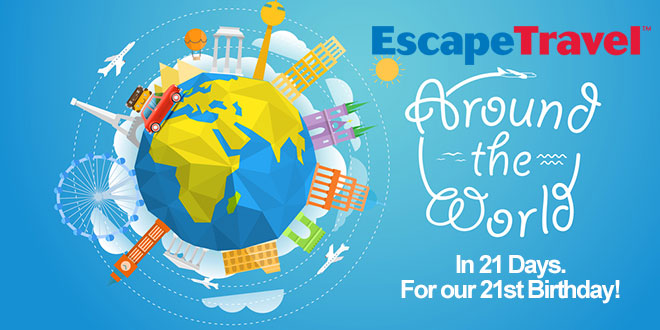 Congrats to Damien from Dawesville, the winner of the $10K Dream Holiday as part of our 'Around the World in 21 Days' birthday celebrations!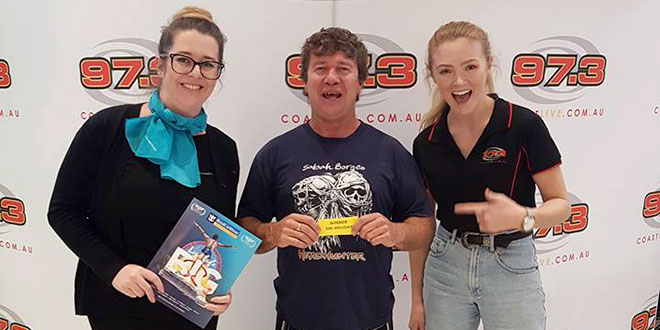 Join Coast FM for our 21st Birthday and Travel Expo on Saturday October 14 at Escape Travel, Secret Harbour Square between 10 and 2.
18 exhibitors have lined up over 30 exclusive and unmissable travel deals including holiday packages, flights, insurance, cruises, tours and stacks of prizes.
Plus one of our 21 'Around the World in 21 Days' contestants will pop our birthday balloon and WIN their $10K dream holiday.
Coast FM – giving you the key to the world – with our 21st Birthday and Travel Expo at Escape Travel, Secret Harbour Square from 10am this Saturday.
Offers available on the day:
* Escape Travel: 12 months interest free! - no annual fee for all applications made on the day (to the value of $99)
* Infinity Holidays: $100 off all bookings with accommodation activities over $2000
* Driveaway Holidays: 10% off all Car Hire, European Leasing, Motorhome & Motorcycle Rentals Worldwide
* Collette: 15% off worldwide tours excluding Finland, Iceland & Antarctica.
* Topdeck: 15% off tours. Exclusive offer additional $100 off for all bookings made on 14th October and reduced deposit of only $100 per person.
* Busabout: 20% off hop on hop off passes and Scotland and Ireland tours. Up to 15% off everything else.
* Infinity Cruise: $100 additional on board credit per cabin for all Europe and USA/Canada cruises
* Backroads: 10% off all guided holidays
* Covermore Insurance: 10% off all travel insurance
* Insight Vacations: Fly to Europe for $299 return when you book any of our 12 European Discoveries. Fly for $599 return with all other 2018 Europe and Britain trips OR 10% off per person. Additional 5% discount for expo attendees can be combined with either offer. Past passengers of TTC will also receive an extra 5% off.
Up to 20% off Contiki trips combinable with up to $700 off airfares.

Other available offers on the day from Cathay Pacific, Emirates, Royal Caribbean, Adventure World Travel, Insider Journeys, Intrepid Group, Globus, Cosmos, Avalon Waterways and Contiki.
PLUS MORE...
Anytime Fitness Secret Harbour: free 14 day pass for any Expo attendees and the chance to win one of 2 annual memberships.
Adept Photo Booths: Book a photo booth for 3 hours or more and receive a free flower wall background. *Subject to availability. Cannot be used in conjunction with any other offers.
Secret Harbour Square: Dollar Dash your chance to WIN $1000. Part of a $20,000 prize pool
Coast FM's 21st Birthday and Travel Expo on Saturday October 14 at Escape Travel, Secret Harbour Square between 10 and 2.

Clues & Escape Travel Pod entries run from Monday August 21st to September 18th, 2017.
Call outs run from Tuesday 26th September to Friday 6th October, 2017.
Winner announced at Escape Travel Secret Harbour from 10am Saturday 14th October, 2017.
Competition terms & conditions.
Online entries have now closed.