Flip It - Win a Catered Grand Final Day Party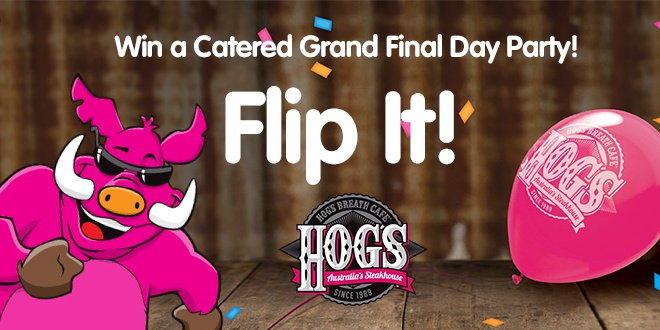 Imagine this... Grand Final Day... your place... 9 of your besties over to watch the most anticipated sporting day of the year.
Now, what's missing?
The food!!!!!
There's only one thing better than watching either the NRL or AFL Grand Final, and that's watching it with a spread that'll change you from being a mate, to a LEGEND!
So, Coast FM is giving you a chance flip a coin and go into the draw to win The Hogs Breath Express Food Truck rock up to your place and cook up the ultimate feed for up to 10 people on Grand Final day!
You pick the code, Hogs Breath will supply the food!
Ribs, chicken wings, curly fries, cheeseburgers all you can eat and a range of beverages.
Flip It, thanks to Hogs Breath Mandurah & 97.3 Coast FM.
Competition runs from Monday 17th to Thursday 27th September, 2018. Drawn: Friday September 28th, 2018.