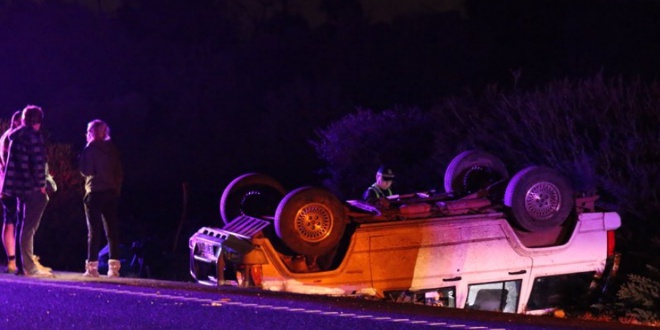 PIC: Twitter / Texas Reeks
Police said the male driver blew three times over the legal limit on Tuesday night.
A four-wheel drive has rolled onto its side on the Kwinana Freeway near the Mandjoogoordap Drive exit.
Around 9.25pm the car was travelling north on the freeway when the driver lost control and the car flipped.
Police said the man returned a breath test three times over the legal limit.
The right hand southbound lane was closed while the wreckage was removed.
Emergency services also attended the scene but it is not known the extent of the driver or passengers injuries.
A four-wheel drive has rolled on Kwinana Freeway. It's alleged the male driver blew three times over the legal limit. It happened about 9:20pm. Police closed the right hand lane southbound while emergency services attended the scene. Police say he was traveling north.#perthnews pic.twitter.com/qTrIEq66ET

— Texas Reeks (@TexReeks) June 12, 2018