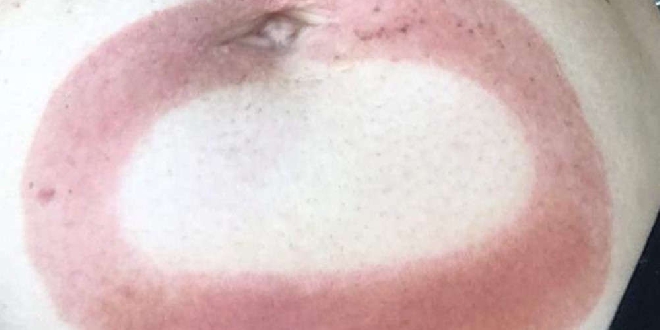 Stomach burn from fat freeze procedure. PIC: Consumer Protection
Locals are being urged to do their research when booking beauty and cosmetic services after Consumer Protection received 36 complaints from January to June this year.
In 2020, there were 71 complaints and 115 enquiries with most problems relating to hair treatments, wax or laser hair removal or treatments to eyebrows, eyelashes, nails and lips.
Issues raised included chemical burns, infections, allergic reactions, bruising/swelling/scarring, dark spots and unhygienic conditions.

Examples of reported cases included second degree burns to a stomach from a fat freezing treatment; infection from a lip fill procedure; burns from a hair removal laser treatment on a tattoo; and a "tummy tuck" that went wrong.

Commissioner for Consumer Protection Gary Newcombe said while most operators are experienced and offer a professional service, there are some occasions when consumers can suffer painful injuries or infections.

"While the number of reported cases of injury are low, the impact on affected consumers can be significant with prolonged pain, long-term scarring and psychological trauma, so a great deal of research by clients is required before deciding on who should carry out the procedure," Mr Newcombe said.

"If something goes wrong, a refund, credit or other remedy offered by the business operator that would normally resolve consumer complaints may not satisfy the consumer in this situation, as they could also be seeking damages or compensation which can be only be achieved by taking civil court action.

"Consumer law does cover what is called "consequential damages" which means the trader is obliged to reimburse the customer's subsequent costs of any remedial care required to treat the injuries and symptoms caused by the original botched treatment.

"The extent of the regulation of beauty and cosmetic services will depend on the treatment being carried out, as different procedures fall under different laws, regulations or codes of practice.

"Consumers shouldn't assume that the person delivering a treatment or procedure has a medical qualification as this may not be required. If they are a plastic surgeon, medical doctor or nurse, they will need to be registered by the Australian Health Practitioner Regulation Agency (Ahpra) and their qualifications can be checked by an online search."

Consumers who are not satisfied with the treatment received and can't resolve the issue with the operator or business, can lodge a complaint on the Consumer Protection website.
Enquiries can be made by email consumer@dmirs.wa.gov.au or by calling 1300 30 40 54.