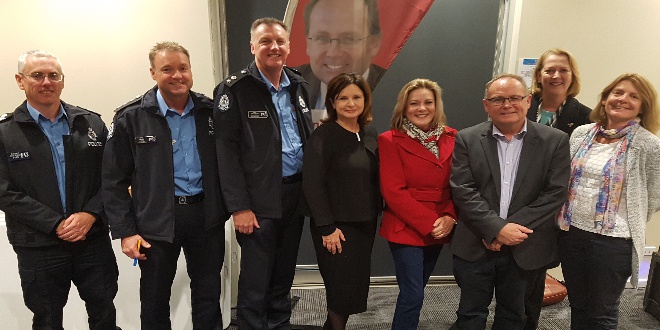 PIC: Supplied
David Templeman and Police Minister Michelle Roberts introduced the new leadership team to the community.
New Mandurah District Police Superintendent Andy Greatwood, Inspector Peter Davies and new Officer in charge of Mandurah Senior Sergeant Darren Hart, were introduced to the community at a community safety forum held by Mandurah MLA David Templeman on Monday Evening.
Mandurah MLA David Templeman said he was particularly pleased that Mandurah's status as a Policing District had been returned.
"We now have a resident Superintendent and the appropriate resources to address the policing challenges of our growing population," he said.
"The new structure has seen a new domestic violence team added to the district and the Superintendent has highlighted that his focus will be on addressing crime hotspots, increased visibility of Police across the area and engaging local organisations and the community to drive down crime."
Police Minister Michelle Roberts explained the new police district boundaries to the forum and highlighted that Mandurah was a big winner in the changes as it will be a Police District in its own right.
Mr Templeman was a fierce critic of the previous system which saw the old Peel Police District absorbed into a super-district of the South Metro Police Region.
Over 50 people attended the forum and raised concerns including anti-social behaviour, hooning in neighbourhoods, concerns in Mandurah's CBD and safety on trains.