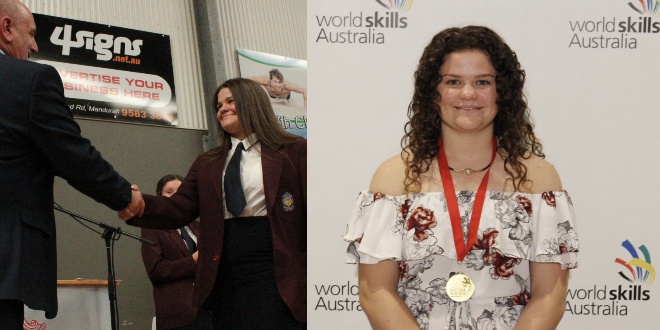 Brandi Burnett will travel to Sydney next month to compete in a national competition against the best up and coming Australian tradespeople.
The 17-year-old Pinjarra Senior High School student has been selected as one of 400 competitors from across the country to compete for the title of national champion in 50 trade and skill categories.
Brandi is the Head Girl at Pinjarra Senior High School and is employed by Pinjarra Bakery & Patisserie. She will compete in the Vocational Education and Training in Schools Food and Beverage competition at the Skills Show.
VETiS is any nationally recognised vocational education and training that counts as a credit towards a senior secondary certificate.
Brandi earned her place at the National Championships after a strong performance at the 2017 WorldSkills Australia Regional Competitions.
"Being chosen to compete at Skills Show 2018 in the National Championships is such an honour and I can't wait to see what I can achieve," she said.
"I'm very grateful to WorldSkills Australia for this opportunity, and to the South Metropolitan TAFE Beaconsfield lecturers and my school."
Out of 50 skills in the National Championships, about 30 have female representation, which is the most in the competition's history. More than 100 women will compete in a wide variety of skills, from heavy vehicle mechanics through to electrical installation.
"To be a part of that is incredible," Brandi said.
WorldSkills Australia CEO Brett Judd said WorldSkills Australia was nurturing and developing the skills of young Australians, and congratulated competitors for "excelling in their fields and reaching such a prestigious national level".
He said events such as Skills Show Australia 2018 highlighted the diverse opportunities available to those pursuing a trade or skill.
"Choosing a vocational education and training path can open up some incredible and varied career opportunities," he said.
"Many of the occupations predicted to have the strongest jobs growth in the next five years are offered by our vocational education and training sector."