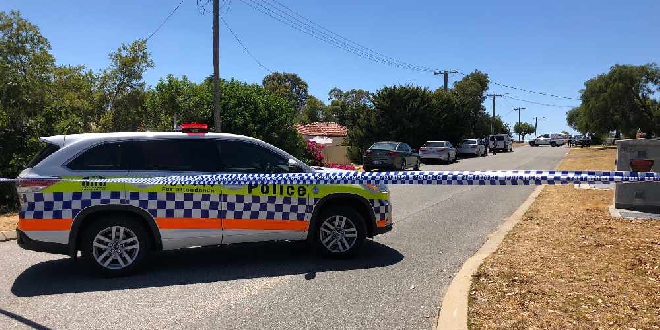 Police have cordoned off Lanyon Street. PIC: Laura Grubisa/West Coast Radio
A woman has died at a residence on Lanyon Street this morning.
Police officers and Forensic Detectives were called to an address at Lanyon Street in Mandurah this morning after a woman died.
Police have cordoned off a section of the street at the France Street intersection while they complete their initial investigations.
At 8:30am officers were called to the address and found a woman deceased and a man collapsed inside.
The man was taken to hospital by ambulance for assessment.
He is in a serious but stable condition.
Inspector Peter Davies said he was hopeful the male would be able to help police with their enquiries.
"Mandurah Detectives along with our homicide squad are trying to determine exactly what has or hasn't occurred here," he said.
A neighbour said he heard a woman yelling, glass breaking and a door being kicked in before the street fell silent.
Not long after, police swarmed the street.
Police have so far been unable to contact the deceased next of kin.
Anyone with information should contact police on 131 444 or Crime Stoppers.