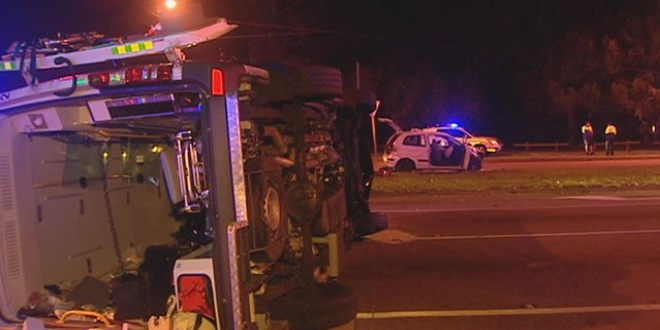 PIC: Seven News
All six people have been rushed to hospital after an ambulance and car collided.
A nine-year-old was rushed to Perth Children's Hospital after a Hyundai Getz and St Johns Ambulance vehicle collided at the intersection of Alexander Drive and Woodrow Avenue in Dianella in Perth's north.
Around 2.40am on Thursday the crash occurred, which has sent all six people to hospital.
A 24-year-old woman, believed to be the driver of the Hyundai, is in a critical condition in Royal Perth Hospital while a 30-year-old woman also in the car is in a serious but stable condition.
The 87-year-old female patient in the ambulance is also in a serious condition at Royal Perth Hospital, while the two paramedics were taken to Sir Charles Gardiner Hospital, one paramedic has serious injuries.
Anyone with information regarding this crash is asked to call Crime Stoppers on 1800 333 000 or report the information online at www.crimestopperswa.com.au.