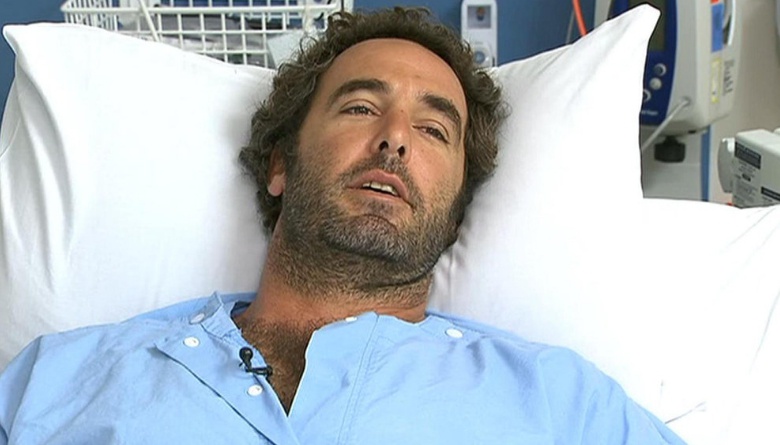 Alejandro Travaglini was attacked by a shark while surfing off Gracetown. PIC: Seven News
Alejandro Travaglini has undergone a second round of surgery overnight, two days after he was attacked by a shark off Gracetown.
The father-of-two was surfing at Cobblestones Beach on Monday morning when he was bitten on the legs by a suspected four-metre Great White.
"A friend of mine that was sitting maybe three or four metres away got scared by something and he said 'there it is'," Mr Travaglini told 7 News.
"(He) started paddling towards the shore and two seconds later I felt something grab me and it's bit my left leg and the struggle began."
The Margaret River local said he used his surfboard as a shield in a desperate bid to survive.
"All I could think of was getting rid of the bloody thing and getting back to shore," he said.
"I remember seeing the shark right in front of me and it turned around and pretty much opened its mouth and all I could think of was, 'shove that board in his mouth'.
"Somehow at that same moment a wave came just where we were and I managed to catch it and body surf it into the shore."
Mr Travaglini received large wounds to his left thigh, left calf and his right knee.
He feared he was not going to survive the ordeal.
"I was kind of thinking I was going to pass onto the other side so my head wasn't in the right space at the time," Mr Travaglini said.
Doctors hope Mr Travaglini will make a full recovery.
Beaches in the Gracetown area remain closed until at least 6pm Friday.