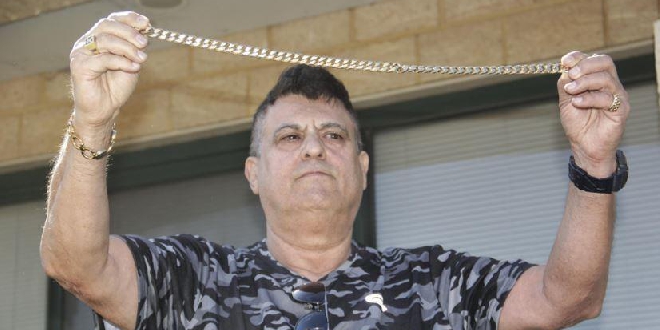 Duska Stampalia with his gold chain PIC: The West Australian
Detectives have charged a man over an alleged choking assault at the Rockingham City Shopping Centre.
The incident occurred on the afternoon of April 11 when a 65 year old man was walking with his parents to his vehicle which was parked in the Rockingham Shopping Centre car park.
As he neared his vehicle he noticed a man walking behind and towards him.
It is alleged the man grabbed a large gold chain the victim was wearing and attempted to pull it from his neck, choking him.
The victim dropped his shopping and car keys and managed to get his hands between the chain and his throat.
After a brief struggle and unable to break the chain, the man walked away.
The victim, Duska Stampalia, received bruising to his neck but did not require medical treatment.
As a result of their investigations, detectives have charged a 36 year old man from Byford with attempted aggravated robbery.
He appeared in court on Friday.
Rockingham Detectives would like to thank the public for their assistance in providing information relating to this incident.