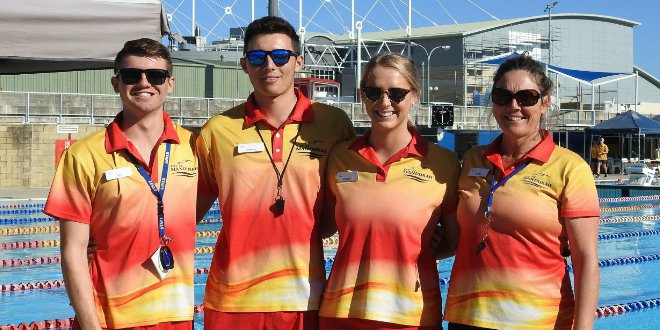 PIC: Supplied
One of two Mandurah teams that competed in the state-wide competition last month posted a win coming in third place.
Last month 21 teams competed in the 11th annual Pool Lifeguard Challenge at HBF Stadium.
The event, sponsored by the Leisure Institute of WA, and facilitated by Royal Life Saving WA, aims of testing the skills of lifeguards and encouraging the continued improvement of lifeguard teams at aquatic centres across WA.
This year Mandurah Aquatic and Recreation Centre entered two teams with other groups travelling from as far as Geraldton and Busselton.
The day began with a team relay and obstacle course, with the second event being a Super Lifeguard Challenge, in which teams showed their swimming, manikin tow and CPR skills.
The part of the day all teams look forward to is the final challenge, which this year involved teams responding to one of three acted-out emergency scenarios
This year, staff from Royal Life Saving put on their best acting display, role-playing three different emergency scenarios.
Each competitor randomly selected one scenario, which this year included a swimmer suffering a spinal injury in the pool, another swimmer falling unconscious and needing to be resuscitated, and a third suffering an asthma attack.
At the end of the day the top three teams were Mandurah Aquatic in third place, Beatty Park Leisure Centre in second place, the HBF Arena Team 1 took out the trophy with the highest overall score across the day's events.
City of Mandurah Chief Executive Officer Mark Newman said the city was proud of the result.
"We are proud of our team of lifeguards at the Mandurah Aquatic and Recreation Centre for their great efforts at the 2018 Pool Lifeguard Challenge," he said.
"The dedicated MARC lifeguards put their skills and knowledge to the test and proved they are some of the best in the business.
"Throughout the year, our lifeguards complete a number of training sessions to ensure they are ready and capable to respond to situations if they arise, and because of this, they are a crucial safety component to our aquatic centre.
"I congratulate both of our teams for their efforts."


: