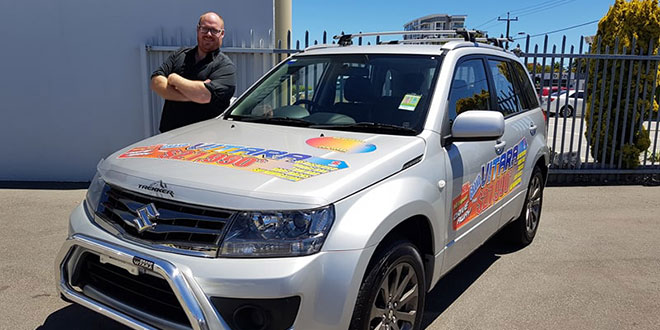 YOU GET A CAR… YOU GET A CAR AND YOU GET A CAR!!
97.3 Coast FM is feeling like Oprah with two car giveaways in two weeks.
On Saturday 17th of February 97.3 Coast FM did a live broadcast from Mandurah Suzuki to celebrate National Suzuki 'Test Drive Day!'.
During the event, local listeners booked to test drive the range of Suzuki vehicles with drivers given a chance to win a brand-new Suzuki valued up to $28,000.
Congratulations to Jennifer Garner of Karnup who will now choose a brand-new Suzuki up to the value of $28,000 to take home! Also by signing up to Coast FM's Coast Card, Jennifer gets 12 months/or up to 20,000kms servicing PLUS a tank of petrol.
Jennifer will pick up her new set of wheels Friday March 2nd to wrap up Coast FM's '97 Days of Summer' where another lucky listener will WIN the new Suzuki Swift.
With thanks to National Suzuki, Mandurah Suzuki and Coast FM.
Pic: Coast FM announcer Paul showing off one of the Suzuki vehicles at Mandurah Suzuki.