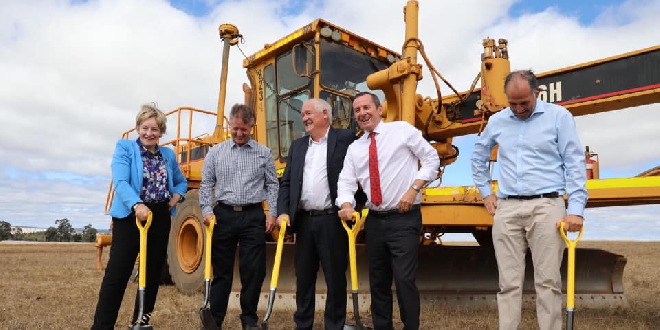 PIC: Mark McGowan/Facebook
Collie will become home to the southern hemisphere's first Caterpillar autonomous technology training facility, with people from all over the world expected to visit the town to use the facility and support the local economy.
The initiative is part of the government's $20 million Collie Futures Fund, aimed at diversifying Collie's economy and creating jobs.
The facility, located at Coolangatta Industrial Estate, will deliver training courses to technicians and operators of autonomous equipment.
It is expected to train just over 200 students during the first year of operation and is projected to grow to 320 students in its third year, delivering training courses to technicians and operators of autonomous equipment and to support the growth of this technology in mining.
Premier Mark McGowan said it will attract international mining industry leaders to the South-West town to sample the new technology, supporting local business and Collie's economy.
"People will come from all over the world to utilise this facility - the first of its kind in the southern hemisphere and the second worldwide for Caterpillar," he said.
"Crucially, we expect clients to spend time in the town as they undertake their training, supporting local businesses and local jobs.
"It will see Collie placed at the forefront of training workers - including local workers in Collie - in new technological skills for large-scale mining operations across the State."
The project will further contribute to the Collie region through expenditure on staff, locally delivered services and accommodation, and local spending associated with trainees and visitors.
It is envisioned the facility will attract complementary like-minded businesses and industries to the region.
For more information, visit http://www.swdc.wa.gov.au.