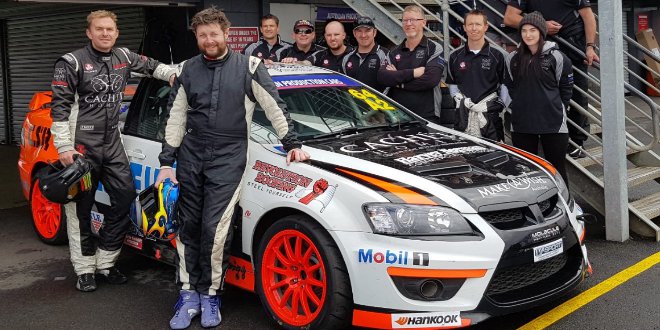 PIC: Jack Motor Sports
Local racing team Jack Motor Sports will travel to New South Wales to compete in the Bathurst 6 hour race.
Chris Lillis and the team behind Jack Motor Sports are about to embark on a journey across Australia to take their production car for a spin in the six hour endurance race during the Easter long weekend.
There'll be 33 cars split between the A1 and A2 categories
The team will compete in the A2 class, specifically for extreme performance vehicles that are normally aspirated.
Lillis has been racing since 2010 in the Western Australia saloon car series, but will travel for only his second time to Bathurst and get behind the wheel for the six hour race.
"Last year we bought the production car then Nathan Callaghan and I ran in the Australia Production car series and won the national championship for A2 class," he said.
"Coming off the back of winning the championship in 2017 we're going into this year really confident that we can hold our own.
"We definitely believe that we'll take out the A2 class and outright we also believe we've got a really good opportunity have a crack at winning the whole thing."
The drive will be split between Lillis and Callaghan, taking turns behind the wheel every two hours.
Lillis said his crew was key to making sure they have a successful run next week.
"It's all about making sure our pit stops are faultless and our strategy is right," he said.
"Nathan and I have the talent and the runs on the board to do the right thing in the car and if the car holds up for the endurance race we should be good to go.
"We've got a crew of ten coming and everyone is friends and family basically."
Lillis, the director of Cachet Homes has recruited his cousin and close family friend as the team mechanics, while other driver Nathan Callaghan, who owns Calmack Panel and Paint recruited his sister as the team's manager.
For the drive to Bathurst this year the team have purchased a new truck to haul the car and equipment.
Previously the car was towed over by trailer, which Lillis said proved to be difficult.
"[last year] we couldn't take all our spares and be properly organised so we bought a truck about a month ago and have been flat out fitting it out ready for the race," he said.
Event Director James O'Brien said he was looking forward to next week's competition.
"The depth of competition continues to grow, and we expect to see very close and hard-fought battles for the podium positions in each of the seven classes throughout the weekend.
The team plan to arrive in Bathurst on Wednesday next week with practice and qualifying kicking off on Good Friday.