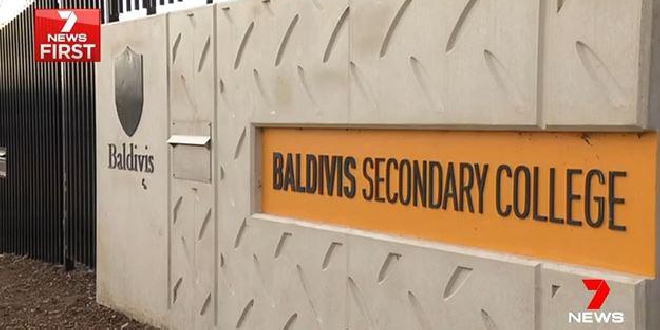 Police have charged a student at Baldivis Secondary College over an alleged stabbing. PIC: Seven News
A 16-year-old boy has been charged after allegedly stabbing a classmate during a cooking class at Baldivis Secondary College.
The boys, both aged 16, were in a food tech class on Thursday afternoon when an altercation allegedly occurred between the pair.
Police allege one boy was playing music on his phone when the victim approached him and asked him to turn it down.
When he declined, the victim allegedly grabbed the phone to turn it down himself before a fight broke out between the boys.
During the scuffle, one of the boys allegedly grabbed a knife being used as part of the lesson, and stabbed the other boy in the leg.
The victim was taken to Rockingham Hospital with a lower leg wound and was discharged late on Friday.
A 16-year-old boy has been charged with unlawful wounding and will face Perth Children's Court at a later date.
Baldivis Secondary School sent a note home to parents confirming the incident had taken place, according to The West Australian.
"Staff and students who were present in the class at the time of the incident have been debriefed and supported," the note said.
"Rest assured the college is continuing to manage the situation in the best interests of all parties."