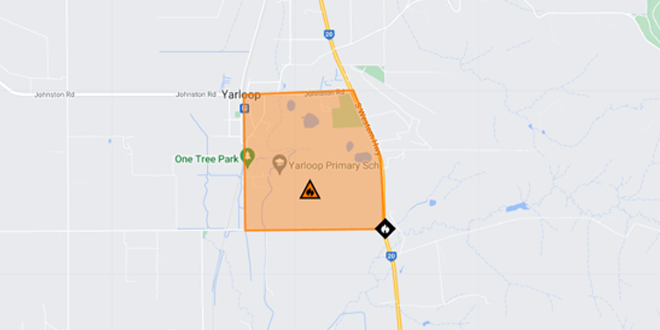 A bushfire ADVICE is in place for people in an area bounded by South West Highway, Clifton Road, the railway line and Johnston Road in
• The alert level for this fire has been downgraded as the fire is contained and controlled.
• There is no threat to lives or homes.
• Although there is no immediate danger you need to be aware and keep up to date in case the situation changes.
• The fire started near the intersection of CLIFTON RD and SOUTH WESTERN HWY in YARLOOP.
WHAT TO DO:
• Stay alert and monitor your surroundings.
• Watch for signs of a bushfire, especially smoke and flames.
• Close all doors and windows, and turn off evaporative air conditioners but keep water running through the system if possible.
• Read through your bushfire survival plan.
• If you do not have a plan, decide what you will do if the situation gets worse. You can make a plan by visiting My Bushfire Plan
If driving
• Be extremely careful when driving through the area.
• Turn your headlights on and drive slowly.
• Watch for emergency services personnel and follow their directions.
BUSHFIRE BEHAVIOUR:
• The bushfire is stationary.
• It is contained and under control.
ROAD CLOSURES AND CONDITIONS:
Roads have not been closed.