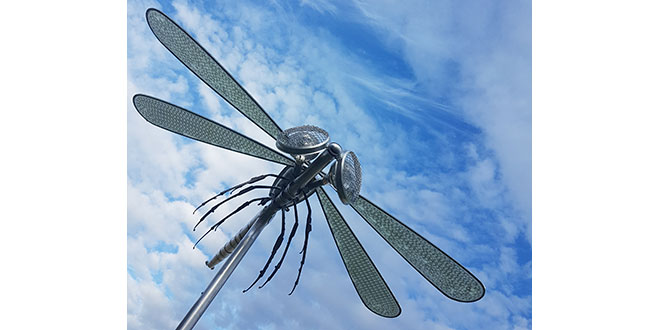 Drag'N'Fly, aluminium and mixed metals by Kelly James. PIC: Supplied
Rockingham foreshore will once again be transformed into an artistic wonderland during the much-anticipated 10th anniversary of Castaways Sculpture Awards.
Up to 60 outdoor sculptures will be displayed on the Rockingham Beach foreshore between October 28 and November 5 with both established and emerging artists creating works of art using repurposed materials.
Aluminium, one of the world's most recyclable materials, has been cleverly reinterpreted by artists at Castaways Sculpture Awards this year, with a damaged 1980s caravan being entirely rebuilt using aluminium and timber.
The quirky sculpted caravan is now two stories tall, replete with a sundeck above.
Another work, made from a repurposed satellite dish and fire extinguishers, acts as an oversized, wind chime reaching three-metres in height.
City of Rockingham Mayor Barry Sammels said Castaways is the City's premier art event, attracting nearly 20,000 visitors to our foreshore over the week of the exhibition.
"Recycled artworks can be extremely interesting and durable and we see incredible ingenuity in each exhibition.
"The City has a strong commitment to recycling and I am thrilled to be celebrating the 10th anniversary of the Castaways competition and exhibition."
Expect to see giraffes, as if cast adrift from their transportation ship, landing on Rockingham Beach, and a snowy drift of Sweet Alice flowers by day, lit at night to create a luminous magic display.
Visitors can also join in the fun by contributing to Message on Bottle, a two-metre high 'bottle' made from wire, commissioned by the City of Rockingham, and created by participating artist Greg Gelmi.
Simply pick up a Castaways fluoro-pink tag and tie from the Castaways Information Tent from 9am to 5pm during the exhibition and attach it the bottle to help create one very large ultra-shaggy sculpture during the course of the exhibition.
Adding to the celebratory atmosphere of Castaways this year is a community celebration of live music and a range of arts activities from 10am until 4pm on the first exhibition day of Castaways, Saturday 28 October.
A record 15 primary schools will participate in Castaways this year, as well as six secondary schools.