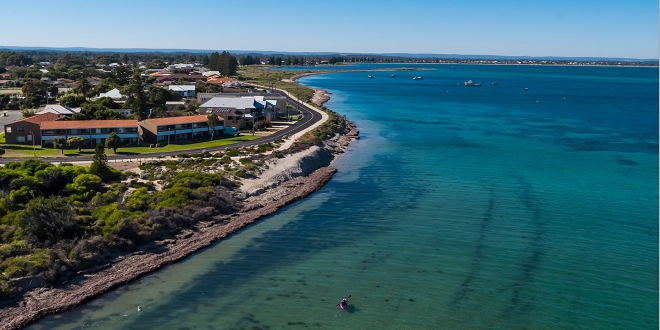 A seawall at Mersey Point in Shoalwater will be constructed using funding from the LRCI program/ Supplied City of Rockingham
The City of Rockingham has secured a significant grant from the Australian Government's Local Roads and Community Infrastructure (LRCI) program, with more than $5.8 million set to contribute to a variety of projects across the community. 
The LRCI program supports local governments to deliver priority local road and community infrastructure projects, as well as supporting jobs and the resilience of local communities as they continue to recover from the impacts of COVID-19.
City projects to receive funding support in phase one include irrigation works at Dress Circle Reserve in Warnbro, St Raphael Reserve in Port Kennedy and Haselmere Reserve in Rockingham, the installation of skate park floodlighting at Veterans Memorial Reserve in Port Kennedy, and stage one of the design and construction of a new sea wall at Mersey Point in Shoalwater.
Projects under phase two of the LRCI program include road rehabilitation works at 12 locations across the City, the resurfacing of the oval at Koorana Reserve, upgrades to street lighting in Secret Harbour, as well as stage two of the design and construction of the new seawall at Mersey Point.
City of Rockingham Mayor Barry Sammels thanked the Australian Government for supporting these important projects through the LRCI program.
"The City of Rockingham is one of the fastest growing areas in the south metropolitan region and significant investment is needed each year to continue to deliver new infrastructure while simultaneously maintaining existing assets," he said.
"This funding through the LRCI will enable the City to carry out a number of projects and we acknowledge the Australian Government for their support. In line with the guidelines of the LRCI program, all works on these projects will be completed by 31 December 2021."