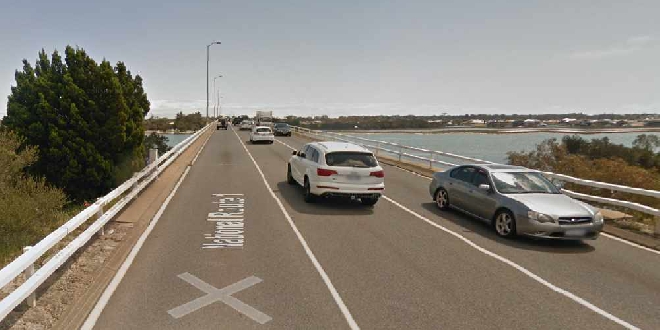 The Mandurah Estuary Bridge will be duplicated in a bid to ease traffic congestion. PIC: Google Maps
The Federal Government will partly fund a second Mandurah Estuary Bridge in a bid to ease congestion and reduce travel time.
Ahead of next week's Federal Budget, Prime Minister Scott Morrison today announced a $1.3 billion cash injection into the WA economy to help upgrade roads and fund key infrastructure projects across the state.
The $110 million bridge will be built alongside the existing one and is expected to create 200 jobs.
The duplication of the bridge along Mandurah Road will provide an extra two lanes of traffic and connect cyclists and pedestrians to the southern area of Mandurah.
Canning MP Andrew Hastie said the new bridge will be a welcome addition to Mandurah and surrounding suburbs.
"Just about everyone who lives in Mandurah has at one point asked themselves: 'Why do we have a three lane bridge?'"
"Whether it's made you late to work, late to school, or late home to your family, the three lane bridge is frustrating and doesn't make sense.
"Today, that changes."
Construction is expected to begin in early 2022 and be completed by mid-2025.
The Federal and State Government will each contribute $55 million to the project.
.