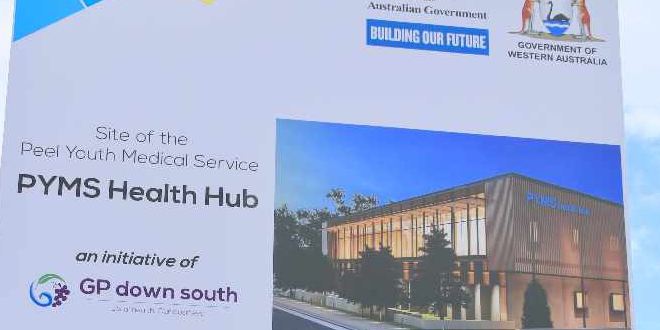 PIC: Supplied
The Peel Youth Medical Services Health Hub has taken a major step towards supporting vulnerable residents in the region.
Construction is now underway on the PYMS Health Hub with federal and state MP's gathering at the site on Friday for a sod turning ceremony.

Minister for Regional Development Fiona Nash said the $9.19 million hub, which was a 2016 federal election commitment, would provide a safe environment for residents facing a range of complex health issues.

"The hub's main focus will be on drug and alcohol, mental health and homeless services, and early intervention is the key to tackling these issues.

"I aim to build the kinds of communities our children and grandchildren want to either stay in or come back to, and supporting regional health does just that."

WA Health and Mental Health Minister Roger Cook said adequate provision of services to improve the health and wellbeing of future generations especially at-risk youth was a priority for the McGowan Government.

"The State Government's financial commitment towards more than half of the project's cost shows how serious this State is at working quickly and proactively to provide more integrated health support services for our young people.

"This hub is expected to service up to 10,000 residents each year, highlighting the importance of this facility to the local community."

Federal Member for Canning Andrew Hastie also joined the community today for the sod turn, said the hub includes at least 60 consulting rooms, two training rooms and five waiting areas along with two reception areas.

"This new model of healthcare could be easily duplicated in other regional communities, and it's great to see this region taking the lead for at-risk residents.

"Service providers have been co-located within the one building, simplifying access for residents, but also allowing providers to work closely together to improve outcomes for patients.
"I am looking forward to seeing the facility open in December 2018."

State Member for Mandurah David Templeman welcomed the milestone and said he was pleased to see his Government's election commitment further progress and that Mandurah and Peel residents were closer to accessing the much-needed health hub.

"This development will also drive extra job opportunities for people who live and work in the area.

"More than 280 positions in the City of Mandurah are expected to be created during the construction phase of the project."

The Peel Youth Medical Services Health Hub project is jointly funded by the Federal Coalition Government ($2,000,000), the Western Australian Government ($4,995,000), Lotterywest ($1,870,000), the Peel Health Foundation ($250,000), and Growing Our South Administration Fund ($78,000).