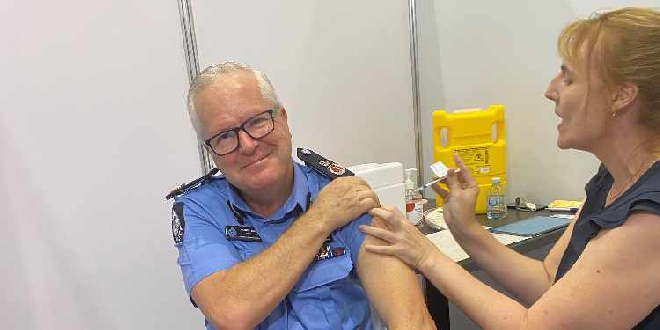 Police Commissioner Chris Dawson getting the AstraZeneca vaccine. PIC: WA Police
Nine COVID-19 vaccination clinics are set to open across WA in the next week.
Premier Mark McGowan said the clinics will be established in Armadale, Midland, Rockingham, Fremantle and Sir Charles Gairdner Hospital while regional clinics will be set up in Broome, Albany, Esperance and Port Hedland.
"Our rollout of vaccines is proceeding at pace, and we're very pleased that we're able to establish these clinics all over Western Australia over the coming week for people in the first two phases — 1A and 1B — to get themselves vaccinated," Premier McGowan said.
21,000 doses of the AstraZeneca vaccine arrived in WA at the weekend, two weeks ahead of schedule.
It will now be sent to those clinics as it does not need to be stored at a lower temperature like the Pfizer jab.
On Sunday, 700 frontline emergency workers were the first in the state to receive the AstraZeneca vaccine, including Police Commissioner Chris Dawson and Department of Fire and Emergency Services Commissioner Darren Klemm.
More than 500 GP practices across WA have now signed up to provide vaccines to local residents.