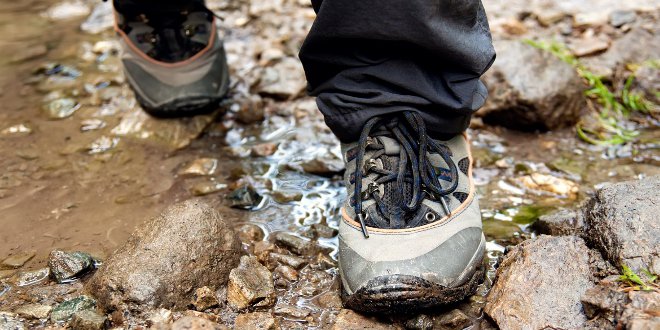 PIC: Bigstock
The pair became stranded while walking the Bibbulmun Track.
Dwellingup Police say a man and woman are lucky to be alive after they were rescued from floodwaters in Nanga Brook.
On Tuesday a man in his 70s and woman in her 60s were walking the Bibbulmun Track with plans to meet a family member near the corner of Driver Road and Howse Road in Nanga Brook.
As the pair neared the location they noticed the Murray River had risen due to floodwaters and decided to attempt to wade across the causeway section.
Both the man and woman were overcome by the current and became stranded in the river. The man was entangled in blackberry vines.
A Personal Locator Beacon was activated, alerting the Australian Maritime Safety Authority Rescue Coordination Centre in Canberra. WA Police Force was advised of the activation of the distress beacon and Dwellingup Police were deployed to the area.
Around the same time the family member had arrived to pick them up, and raised the alarm with Police.
On the way to the location Dwellingup Police were waved down by a man who informed them he had the two people with him.
The passing-by man located the stranded pair by chance as he went to the crossing to check on the water levels. He entered the water and rescued both of them, having had to free the stranded man from the vines.
St John Ambulance attended the scene. One of the police officers drove the ambulance to Peel Health Campus, allowing the ambulance crew to provide emergency first aid to the rescued pair on the way.
Sergeant Matt Fitzgerald, officer in Charge of the Dwellingup Police Station, said this incident serves as a reminder of the dangers of entering floodwaters.
"In many cases the water may appear to be calm on the surface, however currents beneath the surface can catch people by surprise," he said.
"While on this occasion it was fortunate that a passer-by came across the stranded pair when he did, the fact a Personal Locator Beacon had been activated meant that emergency resources were on the way.
"Entering floodwaters is extremely risky, and in this instance could have resulted in serious harm or death. It is only by good luck that the passer-by came across them when he did. Floodwaters are especially dangerous, and the more remote you are the longer it takes for emergency responders to attend.
"In this particular case, given the location the incident occurred, we believe the passer-by, who put himself in harm's way to rescue the pair, saved two lives. Had he not been there at that time the stranded pair were in such a precarious situation we believe they could have lost their lives."