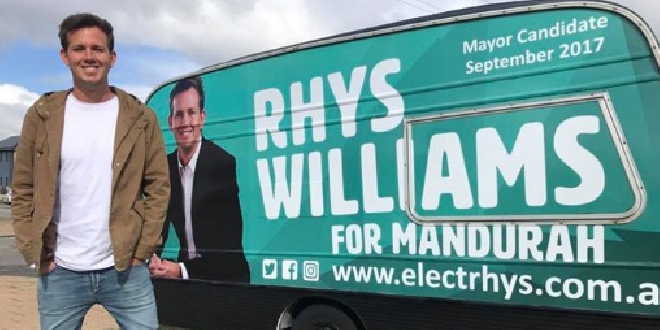 PIC: Rhys Williams/Facebook
The Member for Mandurah David Templeman says he's proud of new Mayor Rhys Williams for launching a second and now successful bid for the City's top job.
Mandurah Mayor-Elect Rhys Williams secured just over half of all votes in the weekend local government election.
The 29-year-old won the race for Mayor with a resounding 10,916 votes with Marina Vergone finishing in second place with 7,414 votes.
At the 2013 election Ms Vergone beat Mr Williams by just two votes following a recount.
Local Government Minister David Templeman said Rhys was unsuccessful by just two votes four years ago and rather than becoming morose and dispirited, he picked himself up, he dusted himself off and he made a commitment to have another go.
"I think that demonstrates the sort of character of this young man and I am immensely proud of his commitment to Mandurah.
"I think this is a new way forward for Mandurah and I hope that the new council will work very closely together to make sure the best interests of people here are always put first."
Mr Templeman congratulated all candidates who put themselves forward.
"For those who were unsuccessful, well done for putting your hand up because it takes courage and commitment and I commend everybody."