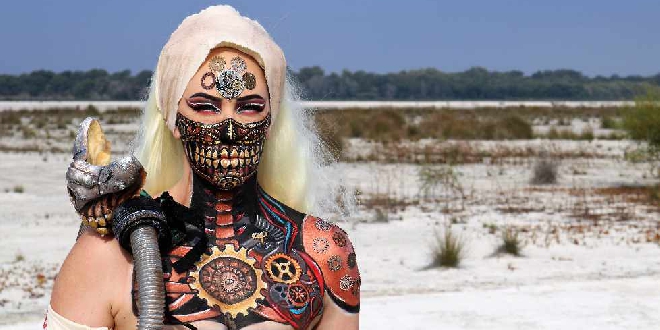 Courtney Hollins' 'National Pride' submission for the FACE Awards. PIC: Supplied
A Dawesville mother has been selected out of hundreds of talented make-up artists to show off her skills at a national competition that could see her named 2017 Beauty Vlogger of the Year.
Courtney Hollins was the only entrant from Western Australia to be selected into the top 30 of the FACE Awards Australia and New Zealand.
She now has to complete a series of challenges, creating an original makeup look and a tutorial video showing how she did it.
"I thought I'd give it a go, I didn't know if my chances were any good because there's a lot of talent in New Zealand and Australia," Ms Hollins said.
"Apparently there were hundreds of entries and I was lucky enough to be selected by a panel of judges to be in the top 30.
"When I tell people I'm from Dawesville, everyone is a little bit confused because not many people hear about Dawesville."
Ms Hollins' first submission for the competition was the character 'Storm' from the X-Men comic series which took her five hours to create.
She is now asking for the community to rally behind her and vote for her latest submission 'Mad Max'.
Voting is open from May 18 until May 26 and the public can vote up to three times a day.
To vote visit https://faceawards.nyxcosmetics.com.au/