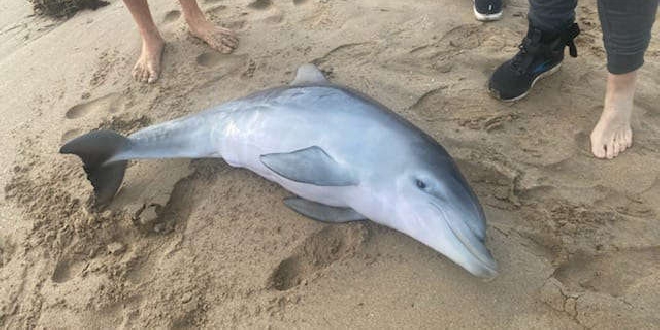 The newborn dolphin became stranded on a Mandurah beach. PIC: Estuary Guardians Mandurah
A newborn dolphin has been euthanised after becoming separated from its mother and stranding on a Mandurah beach.
The three-week-old calf was spotted by beachgoers on Town Beach around 7am on Thursday.
Despite several desperate attempts by locals to return the young dolphin to the ocean, it kept getting washed back to shore.
Mandurah Volunteer Dolphin Rescue Group soon arrived at the scene but were unable to perform a rescue and reunite the dolphin with its mother as they don't have government clearance to do so.
Intervention without permission from the DBCA can lead to fines of up to $400,000.
Once Department of Biodiversity, Conservation and Attractions officers arrived they made the call to euthanise the calf.
"The young calf had been separated from its mother and was stranding itself multiple times. Due to its limited chance of survival on its own the decision was made to euthanise the animal," a DBCA spokesperson said.
"DBCA would like to thank the volunteers involved in this difficult operation."
Estuary Guardians Mandurah said the dolphin's mother, Nikki, was spotted in the estuary and appeared to be searching for her calf but the DBCA denied their requests to reunite the pair.
"In this case we believed it may have been pushed to shore by the swells and it would be well worth at least to try a re-uniting with mum who was found in nearby calm waters, via boat," an Estuary Guardians spokesperson said.
"It was a difficult situation for all involved and very sad outcome.
"While DBCA consulted with zoo vets on the phone, the calf wasn't physically checked by a vet.
"Our experienced rescue team on the beach deemed it was in good body condition, with no external injuries and not malnourished, rather disorientated.
"We had multiple personal and Mandurah cruises vessels out searching in town waters for Nikki to be able to return the calf to her. She was located but our requests were denied by DBCA."
The incident has renewed calls for a a DBCA marine officer to be permanently based in Mandurah.
A petition created a year ago has now reached over 35,000 signatures.
"There is currently no DBCA officers stationed in Mandurah W.A, Dolphins in the area are being impacted by lack of response when a stranding, entanglement or sickness occurs," the petition read.
"Currently Volunteers who do not have the resources or equipment are doing all of the work by reporting and supporting the dolphins, but are limited as they must be supervised by a DBCA officer, sometimes response times have been 4 hours to a day of a DBCA officer arriving.
"In that time many Dolphins have died or chances of survival have been low."
If you find a stranded or injured dolphin please report it to the DBCA on 9474 9055 or Estuary Guardians on 0407 090 284.