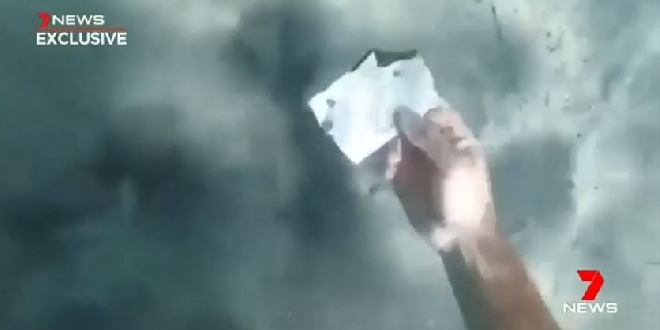 PIC: 7News
Debris containing asbestos has been discovered off Rockingham's Penguin Island.
An underwater prospector recently found the pieces of building debris in knee-deep water.
Anthony from West Oz Prospector said it did not take him long to find multiple pieces.
"The area I've dived in is probably half the size of a footy oval and it seems to be just spread across ... it's everywhere," he told 7NEWS.
"If it was 20m or 30m out it wouldn't be such an issue but this is just a metre or two off the shoreline, so there's every chance a small kid could just pick it up and start playing with it."
Samples of the debris were taken to a lab by 7NEWS with two out of three testing positive for white and brown asbestos.
Asbestos Diseases Society chief executive Melita Markey said although the materials containing asbestos are not hazardous when wet, if they were to wash up on the beach they could be potentially deadly.
"With the tides coming in washing against it, it dries out, it releases fibres, it weakens the bonds," Ms Markey told 7NEWS.
"And then when the wind comes across it, then those bonds are weakened and the fibres can be released.
"If inhaled, asbestos fibres can cause lung diseases ... some of them, deadly.
"If it's dried out and it's been exposed to the weather, then it becomes what we call friable, and that means the pieces of fibre can escape into the air and you can breathe that.
"There's no safe level of exposure."
Penguin Island is managed by the State Government.