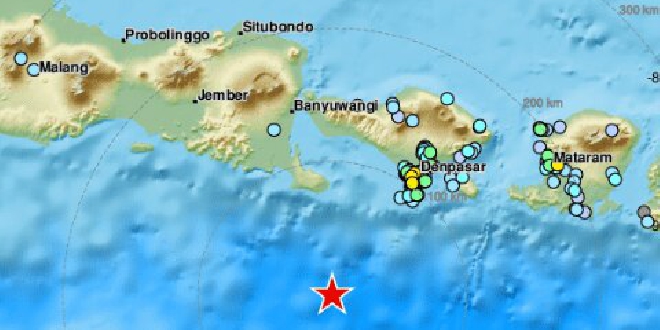 PIC: EMSC/Twitter
A magnitude 6.1 earthquake has struck off the coast of Bali.
It hit around 102km south west of Denpasar about 8am on Tuesday.
Some hotels and schools have been evacuated with reports of minor damage.
There is currently no tsunami threat.
The quake comes two days after Broome was rocked by a magnitude 6.6 tremor.
Bali earthquake also damaged primary school near Uluwatu. Some schools have sent students home for the day. pic.twitter.com/KwaxBZ3xza

— Renae Henry (@renaehenry9) July 16, 2019
Security camera captures the 6.2 magnitude earthquake in Bali pic.twitter.com/mV1yd4nast

— Renae Henry (@renaehenry9) July 16, 2019
Entrance to a Nusa Dua hotel damaged in Bali earthquake pic.twitter.com/YkSRZ3KwRj

— Renae Henry (@renaehenry9) July 16, 2019