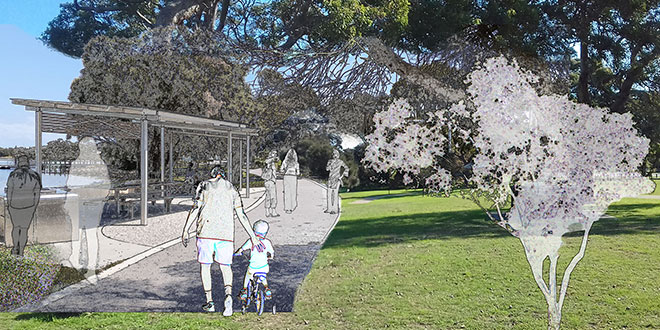 PIC: mandurahmatters.com.au
The City of Mandurah is preparing a Landscape Masterplan for the Coodanup Foreshore Reserve.
The reserve is located on Peel Parade between Wanjeep Street and the end of John Street, Coodanup, and through to the Serpentine River. This foreshore reserve is a valued community asset with well established facilities, trees and foreshore habitat and activities. A framework is needed to update the previous 1999 Concept Plan to plan for upgrades, manage this valuable community asset and to address future opportunities.
Input from the local community is greatly valued and is being used to inform the design process. The current Masterplan is now available for comment.
The City is now encouraging residents and stakeholders to have their say on the draft Masterplan before June 23, 2020.
Community members are invited to have their say by visiting www.mandurahmatters.com.au/coodanupforeshore to view the plans and take the survey.
There is also an Information Drop-in Session being held on Friday, June 19, 2020 from 9am-7pm at the Coodanup Community Hall on Wanjeep Street. Residents can drop in at any time to view and discuss the plans.
The Masterplan includes many elements that the community indicated are important through the earlier community consultation process, and subsequent input from other key stakeholders.
For more information about the Coodanup Foreshore Reserve Landscape Masterplan, go to www.mandurahmatters.com.au.