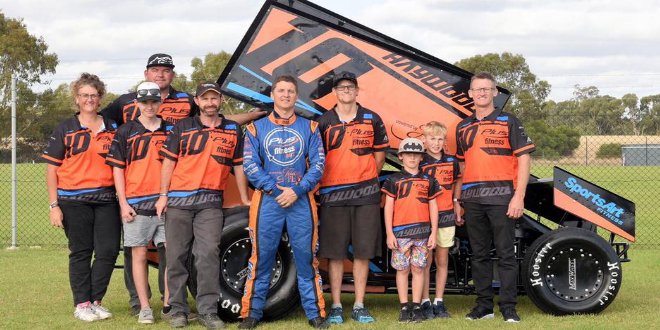 PIC: Facebook / Adrian Haywood In10sity Motorsport
Mandurah Sprintcar racer Adrian Haywood has placed second in at Australian Championships and the Western Australian Title.
While Mandurah-based Haywood may only have 16 race meetings in a 360 Sprintcar under his belt, he's finished second on the podium in the two biggest events on season calendar in his home state; the Australian Championship and the Western Australian Title.
The 37-year-old's success has been met with difficulties from the start, with a spate of engine woes aboard the WA # 88 Plus Fitness supported Maxim during his first two seasons that has certainly limited his track time.
"I've endured a pretty stop-start first two seasons in Sprintcars, but I've been really happy with my speed and all of that's testament to continued hard work of my crew chief Jesu, along with the experience of Grant Bevan and Phil Crofts and the rest of the team," he said.
"The move into Sprintcars is a massive step but it's been a childhood dream of mine. The great support team of my pit crew and sponsors has definitely made the transition into the class a lot easier."
The double second place wins at the national championship and state title races has left Haywood pleased at the end of his second season.
At the recent Australian Championship, Haywood, who had qualified fifth for the feature race, ended up in winning contention in the latter stages of the 40-lap event.
After moving into second with a dozen laps to go, he was beginning to challenge eventual winner Kaiden Manders, but in the final five laps began to run low of fuel.
Haywood said he was pleased with his second place result.
"I felt quietly confident of being a top-five contender heading into the Australian Championship, but to achieve that and bring home a second-place finish is a fantastic feeling for the team and I," he said.
The road to Sprintcars for Haywood has been one that has seen him compete in Formula 500s for a couple of successful seasons, =but that was halted by a six-month stint on the sidelines due to a big crash at the Perth Motorplex,
Prior to those seasons Haywood also competed in 25 years of Dirt Kart racing, which included multiple Australian and Western Australian Title wins.
Haywood and the team will next be in action for their final 2017-18 season appearance on April 7 at the Perth Motorplex for the annual Powerpalooza event.
Heading into the season finale, Haywood currently sits second in the Perth Motorplex 360 Sprintcar Track Championship, only 12 points off the lead.