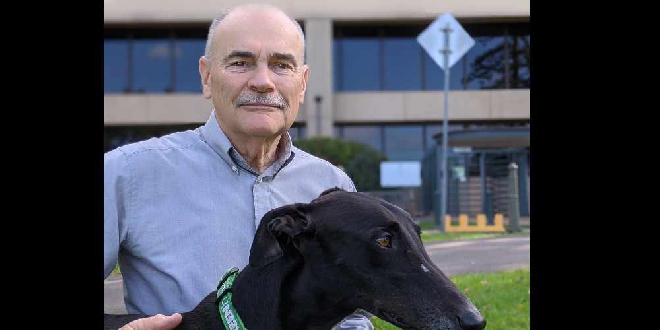 CPG President Dennis Anderson with rescue greyhound Leo. PIC: Supplied
The Coalition for the Protection of Greyhounds (CPG) has hit out at the State Government after a series of greyhound injuries and a death at the Mandurah track in recent weeks.
Stewards reports from April 13 to May 7 have revealed six greyhounds received leg fractures and one died after breaking its spine at the Mandurah track.
All surviving dogs were stood down by racing stewards for 90 days.
CPG President Dennis Anderson said WA's racing industry has failed to introduce six-dog racing and straight tracks which was recommended in 2017 after research by the University of Technology.
"Despite this, the racing industry has chosen money over greyhound welfare by persisting with larger racing fields of eight and seven dogs in order to maximise betting revenue," Mr Anderson said.
"CPG is calling on Racing and Wagering WA to explain to the public and the media why it won't use six-dog racing when it claims animal welfare is key - clearly, that's not true."
Mr Anderson said recent stewards' reports reveal the major injuries occurred in seven or eight-dog races.
"These major injuries highlight the brutality of greyhound racing. The dogs faced typical dangers – an oval track with turns and too many greyhounds competing per race – yet six-dog races are the norm in the UK and South Australia," said Mr Anderson.
"We want to see the industry shut down, but while it's still here, six-dog races and straight tracks would reduce greyhound suffering and death, as would increasing the camber at track turns."
Mr Anderson said in September last year Racing and Wagering WA announced $1.85 million for track upgrades, but little has been done.
In February, the CPG released a report highlighting track related deaths and injuries in Australia.
The report revealed five greyhounds died and 405 suffered injuries at the Greyhounds WA Mandurah track in 2020.
Racing and Wagering WA have been contacted for comment.