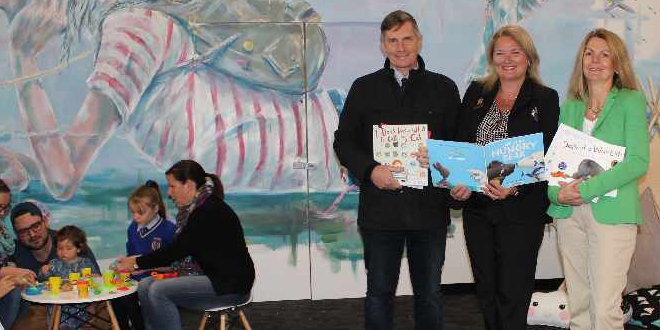 Councillor Peter Jackson, Mayor Marina Vergone and Councillor Caroline Knight. PIC:Supplied
A pop-up library run by the City of Mandurah has opened inside the new Lakelands Shopping Centre.
The temporary space, near Kmart, features a range of books, activities for children including Lego and playdough, and story-time sessions every day at 11am.
The pop-up library will be staffed from 10am- 4pm during its tenure.
The space also features a colourful and playful mural by artist Steve Browne.
The new Lakelands Library and Community Centre within the Lakelands Town Centre is set to open in October, providing a range of services, hireable meeting rooms, spaces for children and families and modern access to PCs and wireless connection.
Mayor Marina Vergone said the new library would be a beacon for community activity.
"We're so excited about the pending opening of the new Lakelands Library, as it will bring the much loved library activities, services and great range of loan items to residents in Mandurah's northern suburbs," she said.
"Once opened in October, the library will be a real hive of community interaction, and will increase the surrounding community's ability to enjoy a wide array of learning opportunities.
"I'd encourage everyone to come and have a look at our new pop-up library, and also take up the opportunity to provide us with feedback on what you'd like to see included in the new library."