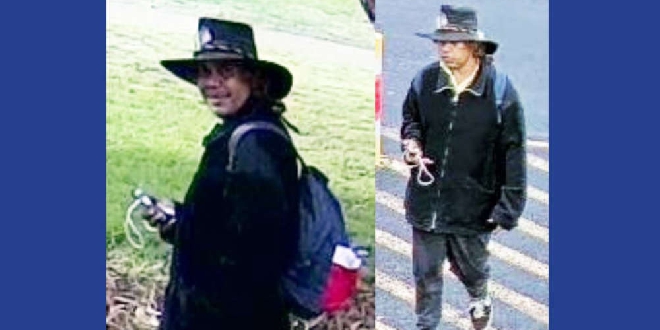 PIC: WA Police
Police have released CCTV images of a man who they believe may have been involved in an alleged assault in Mandurah.
The victim was sitting on a vacant area of land on Parkview Street around 6pm on Thursday, June 16 when he was approached by the man who was known to him.
Police say the man was angry, accusing the victim of spreading rumours about him.
The man then picked up a piece of wood off the ground and hit the victim several times to his head and body before walking off.
The victim was later taken to hospital by ambulance for cuts and bruises to his head.
The alleged offender is described as brown skinned, slim build, between 30 to 35 years of age with brown curly shoulder length hair.
He was wearing an Akubra style hat, black puffer jacket, black trousers, grey and white shoes, and was carrying a navy blue backpack.
If you have any information about the identity of this man or details of this offence please contact Crime Stoppers on 1800 333 000 or report online at www.crimestopperswa.com.au.
You can remain anonymous if you wish and rewards are available once charges are laid.
Please quote Reference Number 10647.