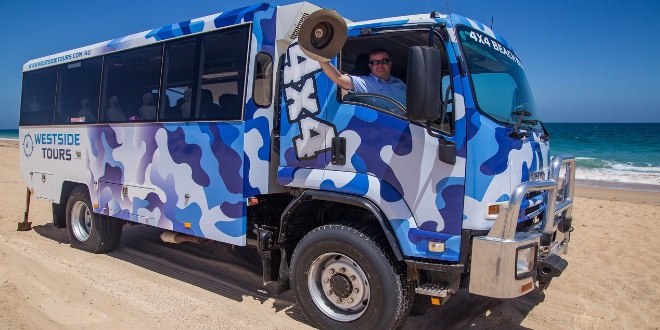 PIC: Supplied
Westside Tours is offering new tour experiences, taking guests out onto Mandurah beaches all from the comfort of luxury off-road coaches. 
The Mandurah-based company will show guests around our pristine sea side offering three unique tours whether you're up for adventure, scenic views or a romantic drive.
The sites include Preston and Pyramids beaches as well as chances to try dolphin spotting.
Directory Ian Glen said Mandurah is home to some of the best landscapes in Western Australia.
"When our family arrived here, we just fell in love with Mandurah. It is such a beautiful place and we love our home and we celebrate it," he said.
"We thought why not share this with visitors and we created Westside Tours."
Westside Tours have purchased two customised coaches to conduct their tours and invested in tour guiding and promotional staff for the new tour company.
Mr Glen said the tours would offer visitors a taste of the Mandurah lifestyle.
"We want to position ourselves as the jumping off point for exploring Mandurah and the south west," he said.
"Our staff are locals with a wealth of knowledge and training, and because we live here and know the conditions, we can tailor our routes and destinations to suit the weather and the location of the wildlife."
A 4X4 off-road beach adventure tour is sure to excite people, departing daily from central Mandurah and making its way to Preston Beach and the Lake Clifton Thrombolites.
You can find out more about the tours here.