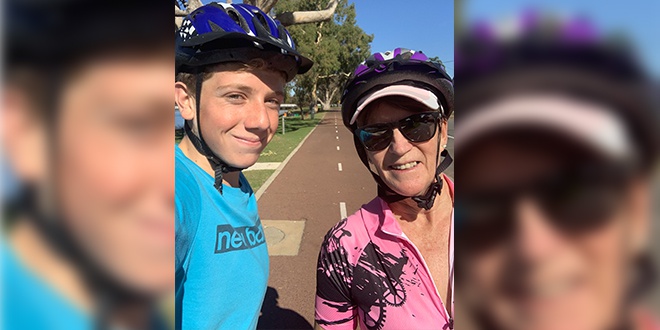 PIC: Supplied
15 year old Kale is teaming up with his grandmother, Shelley, to ride 200km to raise money for cancer research.
Being active has helped grandmother Shelley Scadding through some difficult years with mental health affecting family members, and experiencing her own cancer, but she says the biggest benefit has been her bond with her sporty 15 year old grandson, Kale.
The pair love doing things together and this year they have decided to enter a 200km charity bike ride, the MACA Cancer 200, that runs from Mandurah and back to Perth over two days in October.
"I was looking for a bit of a challenge and came upon the ride that raises money for cancer research so I rang my grandson Kale and he said he was up for it.
"As a cancer survivor, a fundraiser that helps cancer research has always been on my bucket list."
The MACA Cancer 200 is Australia's biggest charity bike ride. It raises money for cancer research at the Harry Perkins Institute of Medical Research in Perth.
Shelley says she's always liked to work hard and to help others. "The only way researchers do their work is with help from supporters, and I can provide some of that."
"I was born in the little town of Pingaring in the eastern wheatbelt. There's a wheatbin and a general store. I married a Kulin farmer but due to family farm being sold, the children all moving away to schools and Uni and my husband's health issues we moved to Perth in 2004.
"We both worked in Perth for a couple of years then both did FIFO work up north, as we loved working together. In 2008, aged 47, I was diagnosed with breast cancer. I had 7 months of chemo then radiotherapy, but I kept working throughout, this time at the Perth airport. For me it was better to keep busy each day then find it was time to go home. I had a great boss.
"I have a cousin who has been battling lymphoma for many years who has recently been diagnosed with Melanoma so raising money for cancer research feels like the right thing to do."
Shelley and Kale have held a couple of sausage sizzles and Kale took some collection tins to Kulin in the holidays to put at the bank and the local store. So far they've raised nearly $3000.
"We have only done one 50km training ride together but Kale mountain bikes often and plays a couple of hockey games a week. He wants me to go mountain bike riding in Bali but I've drawn the line at that.
"I've always kept fit. It makes such a difference when you're managing difficult times. I've succeeded in helping a family member overcome some health issues and addiction, they have lost over 30kg and are looking and feeling great now. I feel very proud of that."
To support Shelley and Kale fundraise go to https://www.cancer200.org.au/fundraisers/teamscaddz