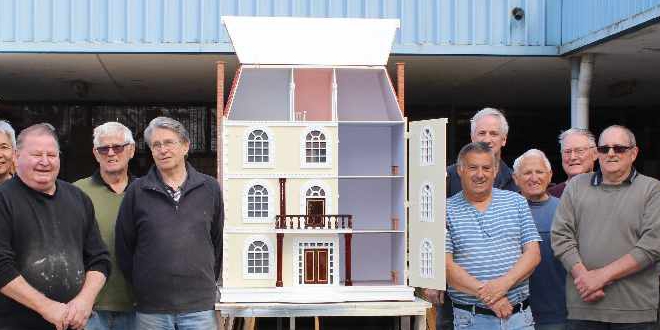 PIC: Supplied
Members of Mandurah Men's Shed have put the finishing touches on a special doll house that's up for grabs at this year's Mandurah Children's Festival.
The popular family event on Mandurah's Eastern Foreshore will be held on Sunday, October 29 and will be based upon the theme of discovery.
Mandurah Men's Shed have been involved with the children's festival for many years.
The not-for-profit organisation consists of around 30 retirees who use their woodworking and painting skills to create toys to donate to children in need.
Each year the group of volunteers provide free toys at the festival for children to paint, glue wheels onto and take home.
Once again, attendees will also be able to purchase toys from the group with proceeds going back into buying additional supplies to make more toys.
The Mandurah Children's Festival has a long history of offering unique and fun experiences for local children and families and features free interactive workshops, activities, a dress up competition, stage entertainment, and more.
For a chance to win the unique, hand-made doll house, enter the draw at the Mandurah Men's Shed stall at the event.
For more information visit www.mandurahchildrensfestival.com.au.