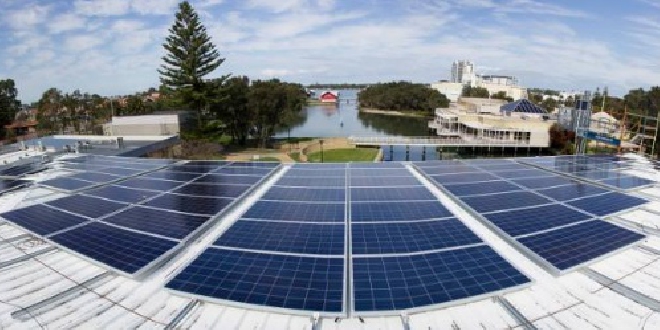 PIC: City of Mandurah
The City of Mandurah's largest solar energy system will be installed at the Mandurah Aquatic and Recreation Centre in a move that will save around $73,000 a year.
The installation at the MARC is the next phase of the City's Solar Plan roll out which is reaping financial and environmental benefits.
Council agreed to increase the size from a 100 kW photovoltaic (PV) system to a 200 kW PV system.
The installation of the 200 kW PV system at the MARC building will cost up to $375,000 and is anticipated to produce a number of benefits including an annual greenhouse gas emissions reduction of 243 tonnes of CO2-e, an annual cost saving of approximately $73,000, an estimated return on investment of 3.9 years and net financial gain of $1,678,825 over the life of the system due to the creation of tradable certificates under the federal Renewable Energy Target and electricity savings.
Chief Executive Officer Mark Newman said it is a great example of the City's dedication to saving energy and helping to conserve the environment.
"Our community has told us that the environment is one of their top priorities, and we are committed to taking action to decrease our impact on the environment in a number of different ways.
"The City has prioritised the investment into solar energy and this, combined with other improvements to City buildings over recent years, is significantly contributing to meet the City's 2020 Carbon Neutral targets."
The City's Solar Plan has reduced the City's greenhouse gas emissions by just under 10 percent.