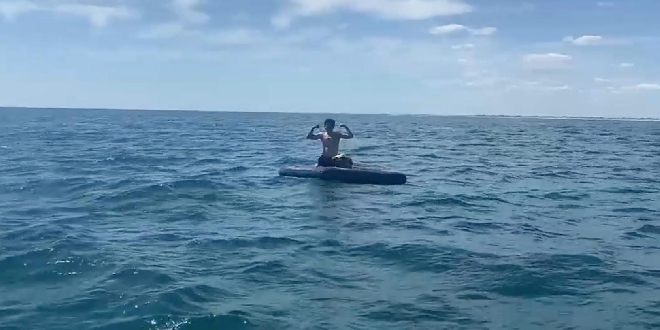 PIC: 7News/Facebook
Two mates have been rescued off the coast of Singleton after they drifted kilometres out to sea on a blow-up mattress.
Noah Palmer and Jackson Perry set off from Singleton Beach on Saturday equipped with only an esky filled with beers and their mobile phones.
Mr Perry told 7NEWS they had only planned to float close to the beach but the wind picked up and they became stranded for almost three hours.
"We got a bit too far out, the wind kept picking up and we got sent out to sea," he said.
Mr Perry said they were slowly sinking due to small holes in the mattress.
"So Noah's like jumping off every 10 minutes to keep blowing the mattress back up," Mr Perry told 7NEWS.
Luckily, the pair were able to call their mate, Tex Reeks, just as their phones ran out of battery.
Mr Reeks and his friend Rueben set out on a jet ski, eventually finding the stranded men and bringing them back to shore.
""Rueben spots this thing out, way out in the ocean on the horizon and he goes 'I think that's them Tex' ... I go 'surely not, there's no way they're that far out on a mattress," Mr Reeks told 7NEWS.