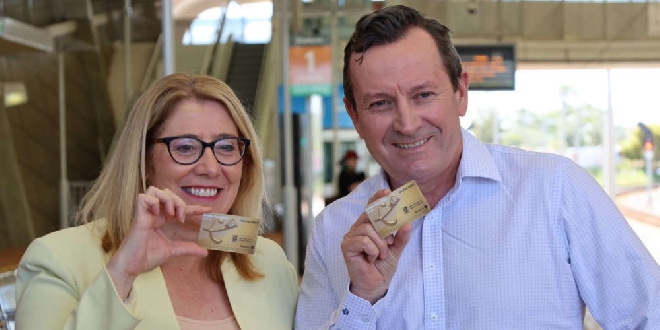 The Golden SmartRider will give a commuter free travel on all Transperth services for a year. PIC: Rita Saffioti MLA/Facebook
The State Government has launched a new 'Golden SmartRider' competition in a bid to encourage more commuters back onto public transport.
Over the month of October, every commuter who travels on public transport and fills out an online entry form on the Transperth website will go into a draw to win.
One winner will be chosen each week and they will be entitled to one year's worth of free travel across the Transperth network.
The competition starts on Friday October 1, and commuters are encouraged to ensure their SmartRider details are up to date.
"While we have had one of the best public transport patronage recoveries in Australia, thanks to our strong response to the COVID-19 pandemic, we want to encourage more people back onto our network," Premier Mark McGowan said.
"Today we are launching the Golden SmartRider competition that will see four people given a year's worth of free public transport."
To continue to encourage people back onto public transport, the State Budget has allocated $15 million in 2021-22 to upgrade the SmartRider system across Perth.
This is part of a $57.8 million project to upgrade the SmartRider ticketing system, which will include the option for commuters to tag on to the network using their mobile phone or credit card.
More than 4,200 new SmartRider machines and new Ticket Vending Machines will be installed, with the new payment technology expected to roll out across the network from 2023.
The McGowan Government's key election commitment to cap train fares to the cost of two zones will come into effect in January 2022.
From this date, commuters will only have to pay the cost of a two-zone fare, potentially saving commuters in the outer suburbs thousands of dollars each year.