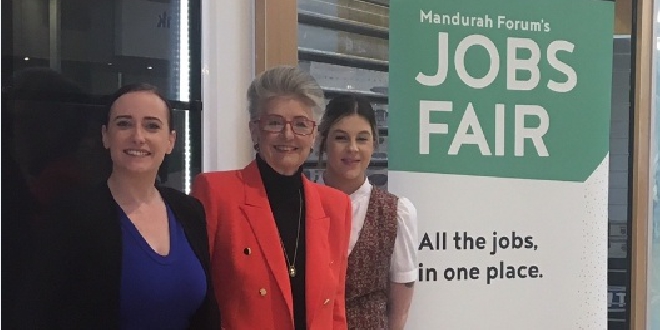 Mandurah Forum Centre Manager Jacqueline McKenzie, Miss Maud Managing Director Maud Edmiston, Miss Maud Store Manager Karlee Andrzejeski. PIC: Supplied
Local job seekers are encouraged to attend a jobs fair at the Mandurah Forum on Thursday to meet businesses face-to-face to learn about current and upcoming positions.
The jobs fair is designed to match local job seekers with retailers, service providers and hospitality operators that are all currently recruiting team members for roles at Mandurah Forum.
Job seekers have the chance to connect with 15 businesses that will be a part of the jobs fair with more than 100 jobs available at Mandurah Forum.
Participating businesses include Miss Maud, Barbershop Express, News Express Mandurah, Wild Sea Australian Seafood, QDB The Bookshop, The Coffee Club, Big W, Salon Express, Ally Fashion, Prouds, Coles and The Athlete's Foot.
Opening mid-year, Mandurah Forum is gearing up to reveal the first major retail stage of the $350 million redevelopment with a new Target store, a fresh food market hall and a wide selection of new specialty stores.
Centre Manager Jacqueline McKenzie said the jobs fair is a great opportunity for locals who are seeking employment in the region.
"The free Mandurah Forum's Jobs Fair will provide our community with an amazing opportunity to connect and showcase their skills to some of the exciting new businesses as well as existing retailers who are expanding their teams."
"I encourage job seekers to get involved and come down to learn first-hand about real employment opportunities and career options that will soon be available at Mandurah Forum."
"With 15 businesses involved and more than 100 jobs available, this is a chance to make connections with potential employers, ask questions about roles and apply for available jobs on the spot."
Participants are encouraged to see the jobs fair as an interview, put their best foot forward and bring enough resumes for each of the businesses they are interested in working for.
It is estimated that the Mandurah Forum redevelopment will create 1000 jobs during construction and more than 700 ongoing retail, hospitality and service jobs at the completed centre.
Event Details:
• Date: Thursday June 8
• Time: 4pm to 8pm
• Location: Located in the event space opposite The Coffee Club
• Admission: Free