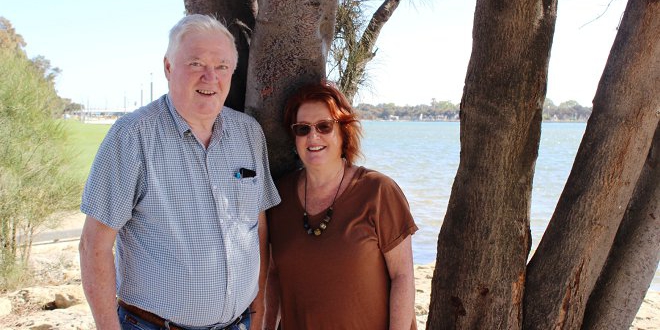 PIC: Mike and Jan Fawcett from Lakelands supplied by City of Mandurah.
The City of Mandurah have partnered with Neighbourhood Connect to deliver free workshop in a bid to inspire people to become community connectors in their neighbourhoods.
The 'Let's Get Neighbourly' workshops will teach participants all the skills for building social connections and community spirit in Mandurah.
Mayor Rhys Williams encouraged residents to attend one of the four workshops as a great way to get to know their neighbours and strengthen the sense of community Mandurah is known for.
"We're lucky to have very caring, community minded people in Mandurah who are always there to lend a helping hand. ," he said.
"We know that people who connect and bond with their neighbours experience a greater sense of belonging.
"I'd encourage people to head along to these workshops and learn more about being a local leader – the more we can come together, the better our city is."
Lakelands residents Mike and Jan Fawcett attended two workshops last year and have become 'community connectors' in their neighbourhood.
"Community is important, and these workshops helped us to connect with a diverse variety of people in the neighbourhood and develop networks," they said.
"We now know who has skills and are able to use them to better grow our community.
"Through the workshops, we were able to share ideas with others which creates excitement and energy.
"We've since set up two neighbour gatherings at Black Swan Lake Park, and also reached out to neighbours during COVID lock down to let them know that we are only a phone call away."
The workshop dates and venues are:
Tuesday, March 2 at Make Place (Tuckey St, Mandurah) 6pm to 8:30pm
Saturday, March 6 at Frasers Landing Community Centre, (Coodanup) 10am to 12:30pm
Thursday, March 11 at Port Bouvard Surf Lifesaving Club, (Dawesville) 6pm to 8:30pm
Saturday, March 13 at Falcon eLibrary and Community Centre, 10am to 12:30pm
The sessions are facilitated by Maureen Maher, a Community Consultant and WA Project Coordinator of Neighbourhood Connect, a national movement assisting local people to start their own neighbourhood groups.
To register, email your contact details and choice of workshop to cdo@mandurah.wa.gov.au or call 0436 943 295.