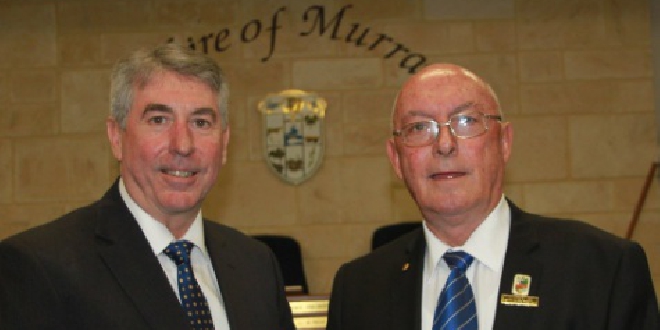 New Shire of Murray President David Bolt and re-elected Deputy President Steve Lee. PIC: Shire of Murray/Twitter
The Shire of Murray's newly elected president David Bolt says the council will not be pursing a proposal to change the name of the Peel region.
A campaign was launched in the lead up to tomorrow's Back to Pinjarra Day calling for the region to be renamed because of settler Thomas Peel's involvement in the Pinjarra massacre.
After joining council just two years ago, the surprise new Shire of Murray President is David Bolt who was elected by fellow Councillors at a Special Council Meeting held on Thursday.
"An original name change would require a multifaceted stakeholder approach across all the localities not just the Shire of Murray.
"It also needs the support of the government and as we know the Premier has come out and rejected the proposal so the Shire is not going to be pursuing the concerns.
Councillor Bolt said the Shire will continue to work with the local community towards reconciliation and healing mentally, physically, emotionally and spiritually.
"Saturday's event is a way to move forward towards reconciliation for everybody and continue on that awareness through the whole community.
Peel region community members will unite on the banks of the Murray River tomorrow to commemorate the 1834 Pinjarra Massacre and pay respects to the ancestors who have fallen.
The Shire of Murray and Bindjareb Nyungar community will host Back to Pinjarra Day at the Pinjarra Massacre Site from 10am to 1pm.