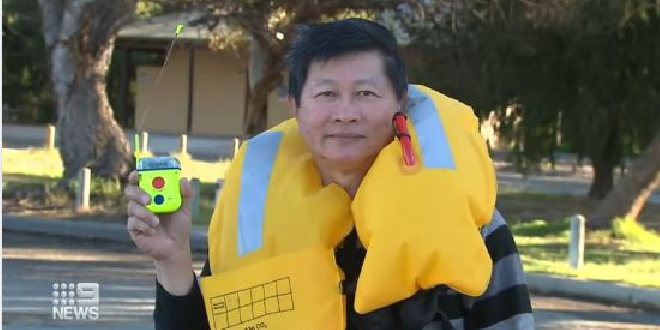 Steven Lin was rescued off Safety Bay on Thursday after he was knocked off his kayak. PIC: 9News
Police say a personal locator beacon (PLB) ultimately saved the life of a stranded kayaker off Safety Bay.
Steven Lin, 62, went fishing from his kayak on Thursday about 500m offshore near the Penguin Island sand bar.
He planned to return well before sunset but was capsized by a wave on his way back to shore.
Mr Lin managed to get back onto his kayak after about 30 minutes before he capsized again.
Luckily, he was well prepared - wearing a life jacket with a PLB attached.
Mr Lin was also wearing warm clothes and was carrying a mobile phone.
Unable to get back onto his kayak he became cold and tired and lost his strength.
At that point he activated his PLB which triggered a marine and rescue search.
Marine Rescue Rockingham volunteers along with the RAC Rescue helicopter were deployed around 5.45pm.
The helicopter spotted the stranded kayaker about 500m offshore from the Safety Bay Yacht Club.
He was then pulled onto the Marine Rescue boat and taken back to the Bent Street Boat Ramp where they were met by police and paramedics.
Mr Lin spent the night at Rockingham Hospital as a precaution.
Water Police Sergeant Paul Crawshaw said if Mr Lin was not carrying the right equipment it could have been a different story.
"He had done everything right. He had a PLB handy which was really the thing that saved his life," he said.
"The signal was received by the Australian Maritime Safety Authority in Canberra. They contact water police in North Fremantle, and we immediately activated the Rockingham Marine Rescue vessel and tasked them to the scene, as well as the RAC rescue helicopter."
Mr Lin thanked all those involved in his rescue.