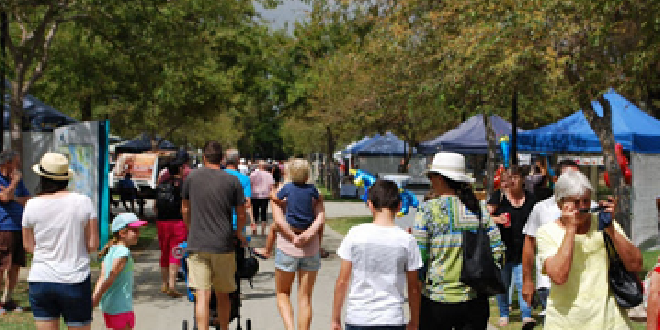 PIC: Mandjar Market Facebook Page
The Mandjar Markets Association has started a petition in an effort to keep the long running markets alive and stallholders coming back.
The petition formally asks the City of Mandurah to consider reverting current trading restrictions put in place and allow the Association to remain in its established location on the Eastern Foreshore.
"We, the undersigned, being residents of the City of Mandurah or visitors to the Peel Region do respectfully request that City of Mandurah Council considers that Mandjar Markets Assoc Inc, can hire and remain in its established location of 13 years on the Eastern Foreshore, Mandurah Terrace, Mandurah.WA.6210 during October and May each year,"
"and that the current trading restrictions imposed by the Council be removed and reverted." the petition read.
Until recently the Mandjar Markets ran weekly from October through to May each year.
The petition also requests the ban on stallholder's selling market type food and beverages also be removed, which was put in place so the markets wouldn't take away sales from businesses in the area.
In response Mayor Rhys Williams said the City are committed to creating a dynamic and diverse activity space across the City Centre.
"With stage one of City's Waterfront redevelopment currently underway, this prime commercial location is expected to become even more sought after," he said.
"Over recent years, we have worked collaboratively with the market operators to explore options for the 2020/21 summer season, including limiting the level of food and beverage sales and changing the regularity to fortnightly, rather than weekly to make way for the existing businesses located nearby, who are currently dealing with the challenges of a volatile economy.
"As part of this process we have researched some of the more successful market day models across the nation which are usually limited to monthly, and some of the changes trialled this year were aligned to this concept.
"Markets are a great way of activating spaces and we want to see market trails activating the foreshore and other spaces in Mandurah in the future.
"Consideration for the best possible outcome continues, with a report outlining how markets in Mandurah could be developed currently being prepared for a future Council meeting, where the Council will make a determination."
When last checked, the petition had more than 500 signatures from both Mandurah locals and visitors to the area.