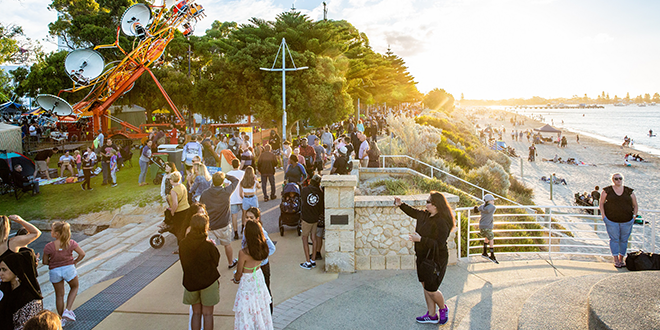 A number of exciting events are planned for the second half of the City's Summer Series. Picture: City of Rockingham.
The City of Rockingham's Summer Series of free, family-friendly, smoke-free and alcohol-free events will continue to provide a range of exciting entertainment options this summer, with a program of events set to continue until the end of March 2020.
The Summer Series gives the community an opportunity to connect and engage in activities at the City's foreshore, reserves and parks during the warmer months of the year. All activities are suitable for families and are held in an alcohol and smoke-free environment.
Since the current Summer Series program began in October 2019, residents have enjoyed events including Castaways Sculpture Awards, a special Foreshore Celebration to mark the culmination of the Rockingham Beach Foreshore Revitalisation, a Christmas Festival and a spectacular New Year's Eve Celebration.
In the weeks and months to come the City will continue to host more events including the annual Australia Day celebration, Romance on the Green with Perth Symphony Orchestra, Street Festival, the International Food Festival and much more.
City of Rockingham Mayor Barry Sammels encouraged residents to participate in the wide range of activities and events on offer throughout the Summer Series.
"The Summer Series has grown to become a hugely popular program that gives the community the chance to enjoy a number of events and activities in a family friendly atmosphere," Mayor Sammels said.
"We have events for all different tastes, so whatever your age or background, there is truly something for everyone. The City encourages all families to Rediscover Rockingham and attend some of the exciting events on offer this summer."
For a full breakdown of all events coming up visit rockingham.wa.gov.au/events-culture-and-tourism/events/summer-series