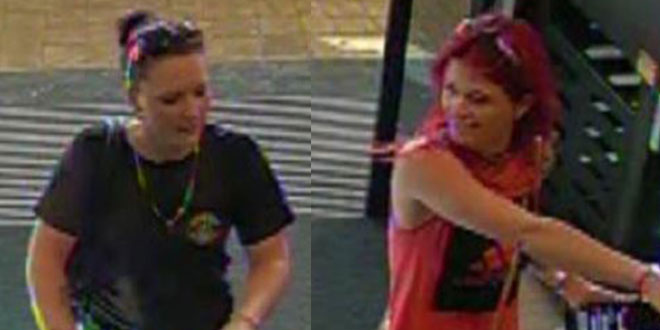 PIC: Crime Stoppers WA
Police have released a CCTV image of two women they believe may be able to assist them in their investigation into an assault in Port Kennedy.
Around 3.45pm on Tuesday March 16, two women entered a store on Saltaire Way in Port Kennedy.
They split up and moved toward the Electrical and Computer sections of the store, concealing items in their bags.
The pair then went to leave the store together, but triggered the door alarm.
When a staff member went to talk to the pair one of the women became verbally abusive and hit her as they left.
The first woman is described as having fair skin, a medium build with dark hair in a bun.
At the time of the incident she was wearing a black t-shirt, black pants and sunglasses on her head, and was pushing a pram with a child's backpack hanging from it.
The second woman is described as having fair skin, a slim build, with dyed pink/red hair.
She was wearing a pink tank top with black motif, dark pants, pink shoes and had a cream crossbody bag with sunglasses on her head.
Anyone with information is asked to contact Crime Stoppers on 1800 333 000 or report online at www.crimestopperswa.com.au.
You can remain anonymous if you wish and rewards are available once charges are laid.
Quote Reference Number 10025